I'm officially hooked on working with POs
Last month I blogged about working with professional organizer Karel Worley in my basement. With my husband's help, we tackled a dirty decluttering job in only four hours. It was one that I'd been dreading for months. It was amazing how much we got done and how painless it was.
Well, I'm at it again. My friend, Aby Garvey, of simplify101, and I have been talking about swapping services for awhile. We thought it would be more fun (and a lot faster) to work together on some of our projects at home.
I got to go first. Last week, Aby came to my home to help me organize my pantry. I was really excited; I didn't feel a speck of dread. I couldn't wait to see what Aby's ideas for my very crowded pantry would be.
My husband, Barry, was always complaining that he couldn't find stuff in the pantry. I knew where stuff was, but it was so clogged with expired food that I couldn't tell at a glance what was there. So I would buy more food, exacerbating the problem.
Here's the layout of the pantry. It's essentially the size of a small coat closet, with fixed shelves on the right side. We'd added a custom-made extra-tall metro shelving unit on the left wall, opposite the fixed shelves. There's a rack of shelves on the inside of the door as well.
Once Aby took a look at it, she made a simple, brilliant suggestion. She suggested we turn the metro shelving unit 90 degrees and put it in the back of the closet. That would allow us to see what was on it without stepping into the pantry. That had literally never occurred to me.
We started by emptying the contents of the pantry, tossing expired things and sorting what was left. Then we turned the shelf as Aby suggested, replaced the shelf liner on the fixed shelves and set to work putting stuff back. We put things away in the order they're used (the categories with the most frequently used items were put away first, so they'd get the prime real estate).
What was so great is that Aby thinks of space differently than I do. Working with her I realized that I was thinking more about how things fit, rather than their function. For example, I had only small things stored on the small shelves on the door. Aby (rightly) proclaimed those shelves prime real estate (I hadn't thought of them that way) and put the stuff we use most often there. Of course!
I'd also made an artificial separation between what was stored on the fixed shelves (primarily bowls and implements) and what was stored on the metro shelving (primarily food). Aby suggested eliminating that division and created a space where the two flowed together. The mixing bowls ended up on the deeper metro shelving, where they're much easier to access. We got the pet food up off the floor onto the bottom shelf of the metro shelving.
The whole process was really fun, and once again, I enjoyed being in my clients' shoes. For example, I was really interested in hearing Aby's ideas, rather than expressing my own. I was more than willing to defer to Aby and I really sort of expected she'd come in and magically transform the space. She didn't disappoint!
It was great to gaze at the new pantry when we were finished. Even better, it's been great to use the new space. When I cooked dinner that night, the supplies I needed were right on the door. When I went to the grocery store a couple of days later, I actually enjoyed putting away food, because I had room to do it! When we were having some friends over this weekend, I could tell at a glance what food we had to nibble on and I was able to quickly put together a shopping list.
And don't even get me started on the food-storage containers! That's a post for another day (this week, I promise). That looked like an impossible challenge and the solution, which I initially doubted, has proven to be fantastic.
Here are a couple of before-and-after pictures, courtesy of Aby, whose photography skills clearly exceed mine.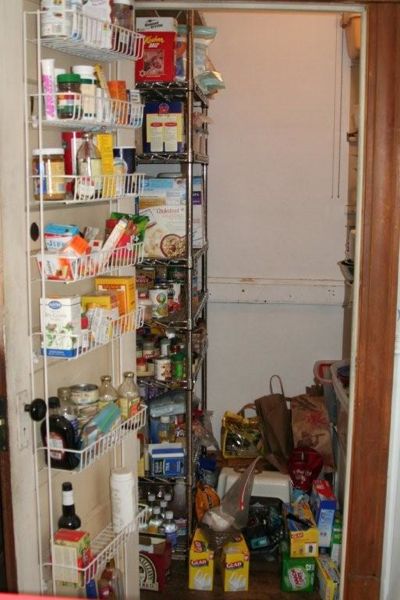 The pantry was clogged. The pet food, paper bags, and garbage bags on the floor were clearly a problem.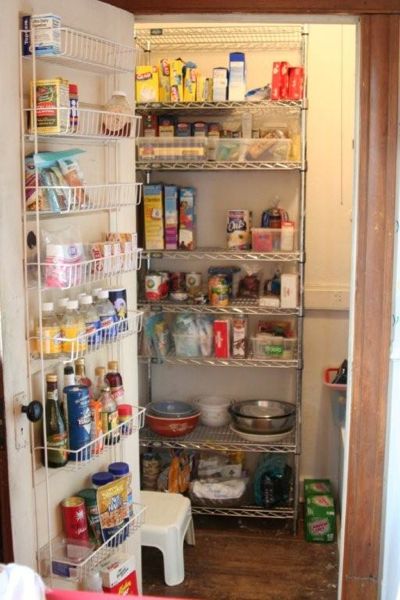 Ahhh. Isn't that better?
Thank you, Aby, for a fun afternoon and for improving my quality of life!
If you've considered hiring an organizer but weren't sure it was worth the investment, trust me, it is. Between the expertise, the company, and the focus the organizer provides, working with an organizer can feel miraculous. I can't wait to do it again!
Tagged with: aby garvey, kitchen, professional organizer