A couple of knitting projects to show off
I'm been knitting up a storm and not always remembering to take pictures of projects before I give them away. Right now I'm halfway through a striped cotton poncho (the Rap on Stripes poncho from Pam Allen's Wrap Style) that I'm excited about, for spring.
In this post I want to show off a couple of finished projects that I do have photos of. One is the second felted ball-band bag I made (here's the first one). I made this one for my pal Geralin Thomas. She selected the yarn colors, which go with her logo colors for her business. When she selected them, I worried they'd be too subtle. But of course I was wrong. They're fabulous. No wonder I turn to Geralin when I'm selecting colors for other knitting projects.
Here's a photo of Geralin carrying the bag—I guess she was too shy to include her face: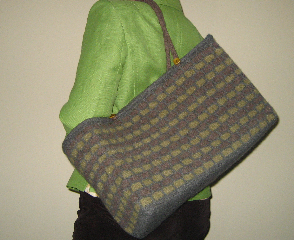 Here's Geralin modeling her bag.
And here's a picture I took of it before I sent it to her. I wanted to show off the fun lining she selected. (Incidentally, my friend Bobbi lined it for me. Check out her great etsy shop.)
Geralin selected the fun fabric for the lining.
I've been doing a great job of using my yarn stash rather than buying more yarn (it's so helpful that it's well organized). I found this ball of Kid Silk Night in there and made this fun lace capelet with it. In this photo I'm dressed up for Valentine's Day dinner. I think I need to do something about my hair.
That's it for the moment. When I finish my poncho, I'll post an update.
Tagged with: geralin thomas, knitting, lace, yarn