A new wastebasket for my new car
I think having a wastebasket in your car is essential. If I didn't, there would be empty protein bar wrappers and water bottles strewn all over the place, not to mention parking lot stubs and post-it notes. In my last car, a Honda CR-V, I had the perfect spot for my felted wool wastebasket that I knit. It did such a wonderful job and it made me really happy.
But in my new car that spot on the floor in front of the center console doesn't exist. I went on Pinterest looking for solutions and came across a sewn wastebasket that hangs from the headrest of the front seat for use by the occupants of the back seat.
I'm really lucky because I have a talented friend, Bobbi Nesladek, who has a small sewing business called DownZipper. Bobbi sews really beautiful small accessories and has amazing taste in fabric choices and combinations. So I asked her to sew me a wastebasket. She was up to the challenge.
My new wastebasket arrived on Saturday. I love it! Here's a photo of it in my car:
It's lined in oilcloth, so it can be easily wiped out. Here's a picture of the inside that Bobbi sent me as she was working on it: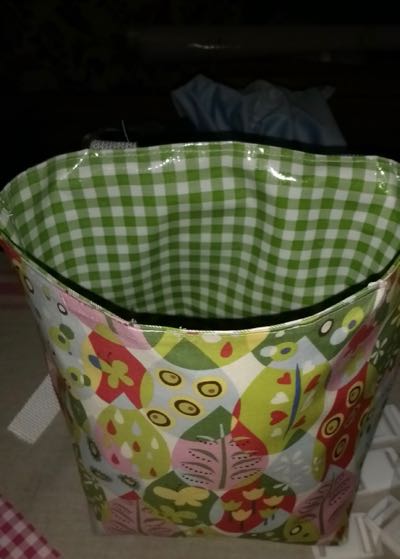 I typically drive with no passengers. (My husband and I take his car when we go places together.) So I've decided to hang my wastebasket from the passenger seat headrest but facing the front of the car so that I can easily use it while I'm driving. When I do have a front-seat passenger, I'll simply turn it around so that it faces the back of the car.
It's cheerful and it makes me happy. And, of course, it's highly functional. My favorite combination.
If you don't have a wastebasket for your car, I suggest you get one. It will make your life easier. I have good news for you: If you'd like one of these hand sewn wastebaskets, just email Bobbi. She's selling these gems for just $15.
Tagged with: bobbi nesladek, car, organizing solutions