A year of good enough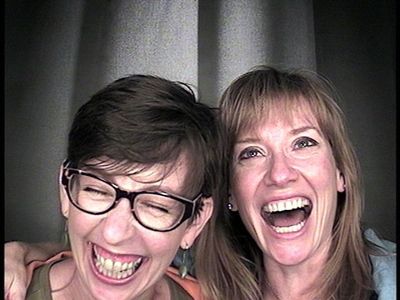 Tomorrow marks the one-year anniversary of Getting to Good Enough, the podcast I co-host with my good friend and life coach, Shannon Wilkinson. I can't believe it's been a year already!
The idea of the podcast, which is all about letting go of perfectionism so you can do more of what you love, is all Shannon's. She approached me in April last year, suggesting we start a podcast together. I didn't know the amount of work that would entail, but I thought it sounded like fun. For several years, Shannon and I had had a weekly accountability phone call together (which sometimes included other people) but for a variety of reasons that had fallen by the wayside. Podcasting seemed like a great excuse for us to talk every week.
After a brief discussion, we decided to go for it. And we made a solemn vow to one another: If making the podcast stopped being fun for either of us, we'd stop doing it.
I'm happy to report it's still fun! Shannon and I record weekly. She does the (minimal) editing and I do the show notes and publication. We keep a list of topics and usually decide at the end of a recording session what we'll record next, though sometimes we don't decide until sit down to record. We don't spend time prepping, beyond a brief conversation just prior to recording. We really have let it be easy.
We've never missed a week, though we did intentionally re-run the premier episode (Done is Better than Perfect ) over the holidays. We've produced one product for purchase, Good Enough Goal Setting. (Oh, and a mug.)
It's been really interesting looking at life through the filter of good enough vs perfect. As we say at the top of the podcast, I'm naturally good at good enough (I'm really not a perfectionist at heart), but I've discovered that in some areas of my life I do have some perfectionistic tendencies. Now that I'm keeping an eye out for them, they pop out at me and I can usually shift to a good enough mentality. (Shannon and I discussed how a year of podcasting on this topic has affected us in Episode 52: A Year of Good Enough.)
We've been delighted to receive some great feedback on how the podcast has helped people. (Check out the comment on this Instagram post from @bn.mhcn. It made our hearts sing!)
Getting to Good Enough has been more popular than we ever imagined: In less than a year, there have been more than 60,000 downloads. (What?!) Those downloads have come from every continent except Antarctica. If you know anyone in anyone in Antarctica, please tell him or her about the podcast and ask for a download!
Shannon and I have even applied to speak at a podcasters' conference! Fingers crossed.
If you haven't listened to Getting to Good Enough, I encourage you to give it a try. You can subscribe at Apple podcasts, Google Podcasts or Spotify. You can also listen to the podcast, and read show notes, at our website, Getting to Good Enough. If you listen, please consider rating and reviewing at iTunes. That helps a podcast be found more easily.
If you've thought about starting a podcast yourself, keep an eye out here because I'm working on a blog post about how we used a "good enough" mentality to start the podcast with minimal effort and angst. We were able to go from idea to publishing our first three (fully realized) episodes in under two months. It doesn't have to be hard.