Alternatives to gift wrap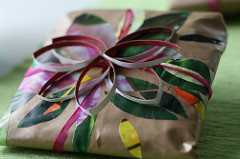 I just left The Container Store. This time of year, their displays feature Gift Wrap Wonderland, where they have rolls upon rolls of beautiful gift wrap. I love The Container Store, truly I do. But as I looked at all that wrap I thought to myself, "Why do people need to spend all this money and storage space just to wrap gifts?"
When I got home, I started thinking about alternatives to purchasing gift wrap. There are so many! This is the list I put together in about two minutes. Can you add anything to it?
Gift wrap from last year
Gift bags, rather than wrap (they take up less room and are so easy to re-use)
One type of wrap, like kraft paper or a solid color. Then you don't need multiple rolls.
Newspaper comics, if you subscribe to a newspaper
Aluminum foil
Kitchen parchment
The liner paper from a gift box (my favorite is the illustrated paper that comes inside my monthly Barkbox!)
Completed pages from coloring books
Decorated printer paper or newsprint or a former grocery bag
Kids' art
Roadmaps (who uses those to navigate any more?)
A family tree printed from your genealogy software
Beautiful wall calendar pages from a previous year
That's just off the top of my head. If you love spending money and storage space in your home on gift wrap, please don't let me stop you. But when you get a little creative, you can save money, use your storage space for something else and charm the gift recipient with your creativity.
Photo by Erika G. via Flickr. Used under Creative Commons License.
Tagged with: gift wrap, recycling