An innovative pants hanger: Holding Hangers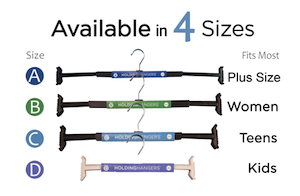 Last year, I learned about Holding Hangers , an innovative style of pants or skirt hanger that had just been made available in the U.S. My colleague, certified professional organizer C. Lee Cawley of Simplify You in the Washington, D.C., area, had seen these hangers in Europe and decided to import and distribute them in the U.S.
I love supporting my fellow organizers (and I so admire those who are willing to take the final risk to deal in physical products), so I ordered a couple of sets. My initial response was very favorable.
These hangers are meant for any garment that doesn't have a shoulder, including pants, skirts, strapless dresses and off-the-shoulder tops. They're spring loaded and lock into the waistband of a pair of pants or a skirt. I was concerned at first that they might stretch out the waistband, but C. Lee pointed out that they apply less pressure than the wearer's own waist.
After using them for over a year in my own closet, I'm convinced. Here's what I love about Holding Hangers:
They're very easy to use—I don't have to fold my pants prior to hanging.
I can remove a pair of pants (or a skirt) with one hand.
They're very tidy in the closet.
They don't take up much space on the rod.
They keep pants and skirts wrinkle free.
They don't leave marks on the garment like clips can.
They come in four sizes (including kids).
When I told C. Lee I was going to blog about Holding Hangers, she offered my readers a discount! Between now and midnight (eastern time) on February 28, you can get a 20 percent discount on Holding Hangers by entering the code JANINE20.
If you try them, let me know what you think!
P.S. C. Lee had a great TV appearance recently, helping a TV reporter organize her pantry. You might enjoy it.
Tagged with: c. lee cawley, closets, hangers, holding hangers, organizing products