Becoming a Certified Professional Organizer®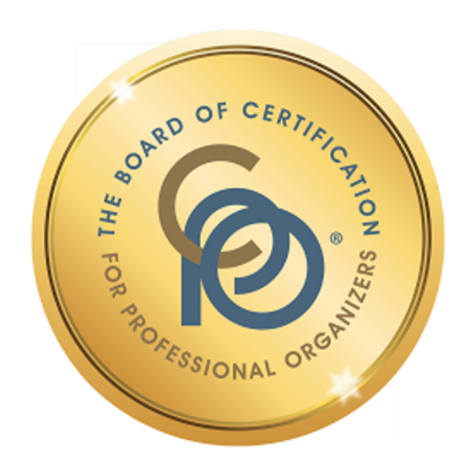 Recently, I received a comment on my popular blog post Are you interested in becoming a professional organizer? that reminded me that there's a certain amount of confusion among new or aspiring professional organizers about the Certified Professional Organizer credential. I'm a proud CPO® so I thought I'd take the opportunity to try to clear up some of the confusion.
First some background. The Certified Professional Organizer credential was created by and is governed by the Board of Certification for Professional Organizers® (BCPO®) which was started by NAPO, the National Association of Productivity and Organizing Professionals®. It came about through the hard work of dedicated volunteers who wanted to create a meaningful credential that furthers the mission of advancing the credibility and ethical standards of the organizing industry. BCPO follows the accreditation guidelines set forth by the National Commission for Certifying Agencies (NCAA). It's the real deal.
I've been around long enough to remember the thrill of a large group of brave organizers sitting for the inaugural exam at the NAPO conference in 2007. I was not one of those organizers, because at that point I didn't qualify to sit for the exam. (But I did hang around outside the ballroom where testing was taking place to congratulate those who took it. That's how big a deal it was to me.) I qualified the following year and earned my CPO in 2008.
Here are some things you need to know about becoming a CPO:
In order to qualify to take the exam, you must have 1500 paid client hours or 1250 paid clients and 250 qualified educational hours in the past five years. (Note: the eligibility period for those 1500 hours was raised from three years to five years in 2019, making qualifying for the exam more attainable for many. I applaud that change.)
Once you've qualified, you must sit for an exam at a testing center and pass it. The exam consists of 125 multiple-choice questions.
You're responsible for keeping track of your qualifying hours. A certain percentage of people who pass the test are audited and asked to show the documentation of their hours. If their hours aren't documented, they don't earn the credential.
To maintain your

CPO

status, you must take an average of 15 continuing education units (

CEU

s) every year. You recertify every three years with 45

CEU

s.
There is a cost associated with taking the exam (currently $450) and a cost associated with maintaining the credential (currently $100 a year).
You do not have to be a member of

NAPO

to be a

CPO

.
It's pretty simple, really. One thing that seems obvious to me but isn't apparently obvious to those new to the field is that you don't have to be certified in order to work as a professional organizer. In fact, you can't be certified until you've had substantial experience as a professional organizer. So the CPO credential is something to aspire to (if you're into credentials) and work toward. It's not something you start out with.
For a deep dive into the exam itself and preparing for it, check out the BCPO Handbook for the CPO exam.
Certification vs certificates
You can, however, earn certificates (not certification) early on in your career. NAPO offers five specialist certificates. As of this writing in October 2019, NAPO is currently offering the following specialist certificates:
Residential Organizing
Household Management
Life Transitions
Workplace Productivity
Team Productivity
The Institute for Challenging Disorganization® also offers certificates of study and specialist certificates. And they have a separate, completely different certification credential, Certified Professional Organizer in Chronic Disorganization® that's also very rigorous to achieve. I attained the CPO-CD® credential in 2009, though I chose not to recertify in 2015. The CPO-CD credential is not the same as CPO. (Obviously, an organizer can have both.) See the Certification page on ICD's website for an overview of their program.
If you earn NAPO's specialist certificates (or certificates from other organizations), that's fantastic. But you can't call yourself a Certified Professional Organizer unless you qualify to sit for, then pass, the CPO exam as outlined above.
Is it worth it to become a
CPO

?

I took the exam as soon as I qualified, which was a year after the credential became available. That meant I was the first CPO in the St. Louis area and remain one of only three CPOs in St. Louis and four in the state of Missouri. (There are approximately 350 CPOs in the world. Fourteen of them are from outside the United States.) That puts me in an elite group that I am proud to be a part of. When I got my CPO, I raised my rates with confidence. So for me, it's worth it for the marketing value and the confidence it gives my clients and prospective clients in my abilities and ethics. I consider it very prestigious.

Is it necessary for a successful professional organizer to become CPO? Absolutely not. I know many, many excellent organizers who have either not had the hours to qualify or simply did not care to pursue the credential. I do admire those who invest the effort and expense of getting certified and staying certified, however.

To learn more about becoming a Certified Professional Organizer, check out the Certified Professional Organizer page on the NAPO website for loads of information and resources.

Tagged with: becoming a po, cpo, icd, napo