Building ease with daily habits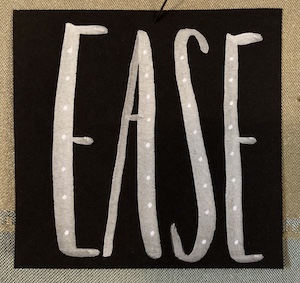 My word of the year for 2021 is ease. I don't think I've ever had a more appropriate word. I've set the intention of trying to build more ease into my life and also use ease as a parameter around which I make decisions. It feels great.
This morning, while I was doing a gentle yoga practice, it hit me that the daily habits I've cultivated over the last year or more have really helped introduce a lot of ease into my life. Specifically, doing yoga every day has meant that yoga is so much easier than it was when I tried it for the first time two years ago. Not only do I know many of the poses (and I sometimes even anticipate them), they are much easier for me to do. That's because daily practice has made me stronger and more flexible. And what 58-year-old person doesn't love that?
Another area where daily practice has made a huge (life-changing!) difference is in my financial life. I've been working for myself for 25 years and it's only been in the past six months or so that I've built a daily practice around tending to my finances. That has had the happy result that I'm always caught up with my bookkeeping in Quickbooks! This has been an elusive goal for many years.
The secret weapon of my financial life has been the software You Need a Budget (YNAB). (That's a referral link…if you use it and end up subscribing, we each get a free month.) With YNAB I budget every dollar as it comes in and it's actually fun. So every morning I actually enjoy logging in and categorizing any expenditures as well as budgeting any income from the past 24 hours. I've been using it since November 2018 for my business. (On January 1 of this year I took over our family's finances in YNAB.) It took me awhile, but I've created the habit of entering anything that comes through YNAB into my business's Quickbooks and double-checking periodically that everything is in sync. So I am blissfully caught up.
Thanks to daily habits (and wonderful Yoga with Adriene and YNAB), two big things that used to be real burdens for me (exercise and keeping track of finances) are now both easy and full of ease. That feels like a miracle.
Of course this can apply to so many things, including maintaining order, taking vitamins and supplements, and keeping up with email or filing. When we make something as easy as possible to do and we practice it daily, we allow ease to flourish.
I'm going to keep looking for other ways I can build ease into my life with daily practice!
Tagged with: ease, goals, planning, resolutions