Do you have a word of the year?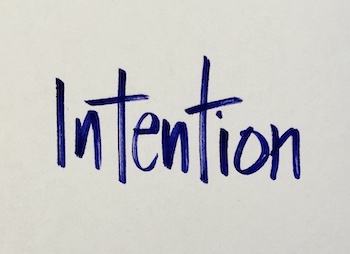 Every year during end-of-the-year planning time, I select a word of the year. I typically use Christine Kane's Your Word of the Year Discovery Tool but this year I used the Power Sheets Intentional Goal Planner from Lara Casey of Cultivate Your Life to help me set my 2020 goals and decide on a word of the year.
My 2020 word of the year is Intention.
What's the value in having a word of the year? It can serve as a filter through which you make decisions throughout the year. It can be reminder of your goals and your hopes for the year. In short, it can keep you on track.
Another benefit of having a single word of the year is that it's easy to make a reminder so you don't forget it. A note on your bulletin board or refrigerator. A periodic one-word reminder on your phone. Heck, you can change your lock screen to display your word in a lovely font. The year that my word of the year was Fearless, I had a bracelet made with that word from My Intent.
If you don't have a word of the year, I encourage you to consider trying it. And if you do have one, feel free to share it in the comments!
Tagged with: goals, planning, resolutions