Do you subscribe to my newsletter?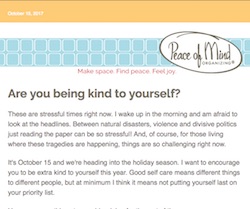 In addition to blogging here a couple of times a week, I also have a monthly newsletter, which comes out on the 15th of the month. There's not a whole lot of overlap between the two, though occasionally I like a newsletter article so much I run it in the blog (or vice versa). And each newsletter contains links to four or five favorite blog posts from the previous month.
Some months, I have special offers for newsletter readers only.
Just over a month ago, I had the newsletter format changed so it would be mobile responsive. It's a cleaner, easy-to-read look, no matter if you're reading it on your phone, tablet or computer.
You can read the archives of the newsletter (I've published it monthly since the beginning of 2008!) and/or subscribe so that it lands in your email inbox on the 15th of every month. If you subscribe, you'll receive my free pdf, The 12 Most Common Organizing Mistakes.
Just go to the Newsletters page of my website to read the newsletter archive or subscribe to new newsletters.