Embracing my inner imperfectionist
In my home office I use a MacBook pro attached to an external monitor and wireless keyboard and mouse. The keyboard is a Satechi Bluetooth Keyboard and I love it.
My only complaint about the keyboard is that after only nine months of use, the letters started wearing off the most-used keys. (Apparently I hit the keys hard.) I'm a touch typist, so it's not that big a deal, but it was starting to get on my nerves. I had a hard time in particular remembering which key was R and which was T.
This is what I was dealing with.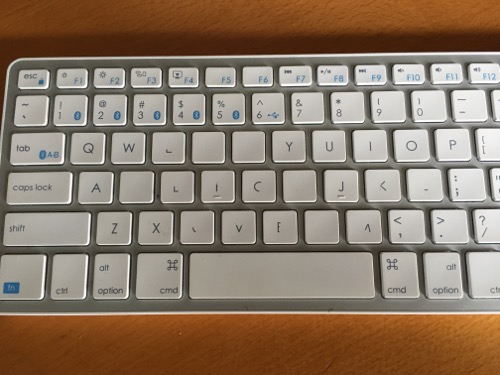 Initially I thought I'd replace the keyboard. Then I saw that would cost $60. So I started seeking alternatives. Naturally, I googled the problem (I searched on "replacing worn off keyboard letters") and saw that there are keyboard stickers available. But they looked a bit sketchy, so I dug a little deeper and found a DIY site that recommended printing out letters and affixing them with double-sided tape. No thanks. But in the comments to that post, someone recommended using a P-Touch labeler. I jumped on that option.
I pulled out my Brother P-Touch and popped in a label cartridge with black type on white tape and extra strength adhesive. I printed out the missing letters in text size 24. I put several spaces between each letter and just trimmed them by hand and affixed them to the keys.
I had to work hard not to let this project take the better part of an hour. I told myself that it didn't matter whether each label was the same size as the one next to it, since the letters were all the same size. I stopped myself from getting obsessive about making sure the labels were straight. I just printed, cut, stuck and moved on. It took about seven minutes for the 15 letters, start to finish.
And you know what? They look just fine and they feel great. It is such a relief to be able to see the keys!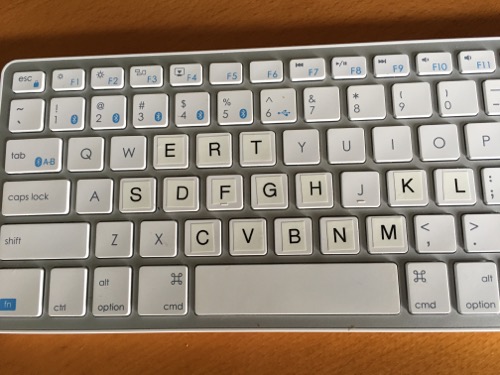 Years ago, I heard time-management guru Harold L. Taylor speak at a seminar here in St. Louis. (I blogged about it at the time.) One of the things he said is that a perfectionist is someone who spends a greater amount of time on a task than it merits. This task did not merit a lot of time. If I had spent an additional hour making sure everything was perfect, the keys would have looked marginally better and their function would have been the same.
I'm so glad I let go of perfectionism on this project!
Tagged with: diy, harold taylor, keyboard, perfectionism, technology