Expert help with coronavirus challenges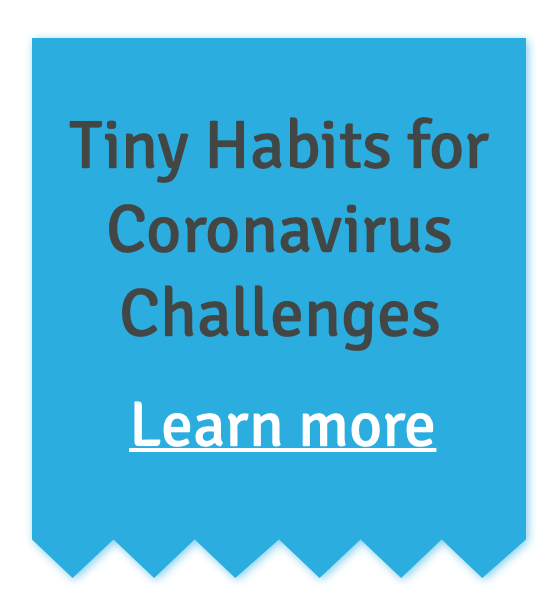 I'm a huge fan of B.J. Fogg and his Tiny Habits program. (Just six weeks ago, I blogged about his Screentime Genie to help you reduce screentime.)
I'm on his email list, so I pre-ordered his new book Tiny Habits: The Small Changes that Change Everything. I'll be honest and admit that I haven't read it yet, but I have heard him on a variety of podcasts as he promotes the book. Just this morning I finished listening to his interview on Armchair Expert with Dax Shepard. (Warning: there's explicit language on that podcast.) If you're looking to create some great habits with ease, I heartily recommend looking into Tiny Habits.
During this worldwide coronavirus crisis, B.J. Fogg and his Tiny Habits coaches have created a series of free zoom classes addressing ways to use tiny habits to address various challenges this crisis brings up. You can see the list of upcoming classes to register for (there are 17 currently) and also, on the same page, find links to recordings of more than a dozen previous classes. Last night I watched the recorded class Tiny Habits for Cultivating Gratitude and this afternoon I'm planning to participate in the live class, Tiny Celebrations for Staying Upbeat. Friday I'm registered for Tiny Habits to Help Your Supplies Last Longer.
I think this is a tremendous service they're offering and I encourage you to check it out. I love that these short classes add a little structure to my otherwise empty calendar. And I love the positivity and, most of all, easy applicability of the lessons.
Tagged with: bj fogg, coronavirus, habits, tiny habits