Fill out the Census!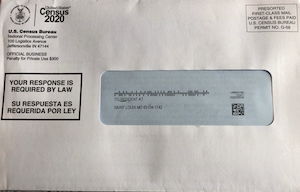 As a genealogist, I'm a huge fan of the U.S. Census. It forms the backbone of much of my research, since it provides vital information on my ancestors' migration, births and deaths, and occupations (among other things). I also know about the value of census data from my first job out of college, I worked at the Population Reference Bureau, a non-profit that makes demographic information available and accessible. Census data are a huge part of that.
So every ten years I'm thrilled to fill out my census form. In fact, I usually wish for the long form, where more details are requested (though I don't think I've been sent one). This year, when the census mailing arrived, it was different. It's not a form. It's just a letter with a code in it, to be entered at the U.S. Census website.
The process of answering the questions on the website was very easy and very fast. They asked a few questions about the names, relationships and birthdates of household members, along with race and ethnicity. That's it. It took me minutes.
Answering the census questions is required by law. And it's also important. The results determine the number of seats states have in the House of Representatives. They also determine federal funding for all sorts of programs. And that's the tip of the iceberg. Check out the Importance of the Data page on the U.S. Census website for more information.
Tagged with: census