Five months of daily yoga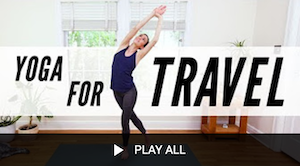 Today is special for me because it marks five months of doing at-home yoga every day with Yoga with Adriene. That's 153 days in a row of yoga. It's gone from something I felt like I should do (even when I didn't really feel like it) to something I want to do. There's no longer a question of whether I'll do it. The question is just which yoga video I'll do. I almost always do it in the morning, before walking Bix. It's a lovely way to start the day.
In June, after two months of daily yoga, I wrote a post about why I love Yoga with Adriene. I just re-read it and I don't think I can improve upon the reasons I enumerated, so here they are again:
Nine things I love about Yoga with Adriene
I'm getting stronger and more flexible. I'm 57 years old. I am absolutely thrilled to be getting stronger and more flexible, not the other way around.
It's good for my body and my mind. Stilling my mind, breathing deeply and moving my body are absolutely what I need right now.
It's gentle. Adriene is such a kind and gentle communicator. Her workouts are full of love and body acceptance. She suggests modifications for every pose and normalizes the idea that you might be not able to do all the stretchy bendy things she can do.
Adriene is funny. She's a yoga goddess with a beautiful body but Adriene is self-deprecating and makes funny comments all the time. (Today she bowed her head, then commented, "I see toothpaste on my shirt. Class act.")
There are many options, but I don't have to make a choice. I'm easily overwhelmed by options. Adriene offers 30-day yoga journeys every January where you just do the workout designated for that day. (You can start any time.) No choice necessary. She also offers a themed calendar every month, so you can do the workout for that day. (This month the theme is, appropriately enough, Courage.) So far, I've done three different 30-day journeys, two of them twice. I've done 2020's Home twice, 2015's 30 Days of Yoga twice and 2019's Dedicate once. I love that I don't necessarily have to choose which of her many videos to do!
The workouts are varied but there's continuity. Each workout has some sort of theme—it might be for a certain part of the body (today I did neck and shoulder relief) or it might be to create a certain feeling, like "Soften". After doing it this long, the yoga poses are familiar but there endless ways to put them together and each workout feels fresh to me.
It's free! Adriene does have a paid community, but all the workouts on her YouTube channel are free. And they're not interrupted by ads.
I get to do yoga in my pajamas. I know if would be very hard for me to leave the house to do yoga. Now, I just have to take a few steps from my office to my guest room to do yoga in the morning. And most mornings I do it in my pajamas. Talk about letting it be easy!
Benji. Adriene's Australian Cattle Dog, Benji, is present in almost all the videos. He's calm and zen and adorable. Usually he's extremely well behaved but occasionally he does something funny (like the time he sat on Adriene's head when she was in child's pose.) Adriene always acknowledges him and treats him with love.
I had been thinking about doing yoga for literally years. And now it's part of my life. I think the reason I could get started and stick with it was that I got rid all the barriers—it literally couldn't be easier for me to do from my home, often in my pjs. (Plus, I was inspired by my awesome niece, Miranda, who won't start her day without it.)
I'm going to be taking a two-week driving trip soon and I intend to keep up the daily practice. I won't be doing it out of a sense of obligation to break the chain. I'll do it because I want to do it to help my body (and my mind) after long days of driving. I am so grateful to have been able to make this part of my life.
Is there something you've been wanting to incorporate in your life that you've had trouble starting? Maybe take a look at the barriers and see if you can set them aside. I'm really glad I did.