Getting to Good Enough hits 50,000 downloads!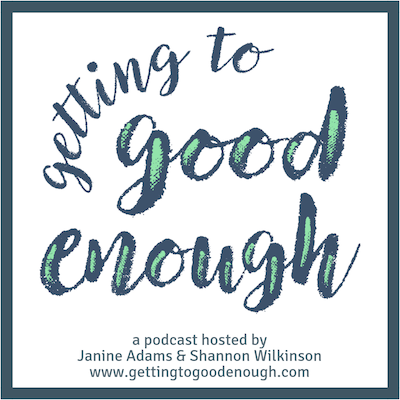 Are you listening to Getting to Good Enough, the podcast I co-host with Shannon Wilkinson? I hope so, but if not, I encourage you to check it out. Shannon and I were beyond thrilled last Friday when we surpassed the 50,000 downloads mark. We've been podcasting weekly for about ten months and are so happy that people are listening!
Getting to Good Enough is all about letting go of perfectionism so you can do more of what you love. Shannon, who is a life coach, is a recovering perfectionist and I'm fortunate to be a naturally "good enough" person. In our work with our clients, we've both seen how perfectionism can paralyze people and sometimes hold them back. We have advice on letting go of that.
Each week we address a topic that has some relationship to perfectionism (and, believe me, it's not hard to come up with topics because almost everything relates to perfectionism). Last week's episode was "Getting Back on Track." This week's is "How Do You Relax?".
Each episode of the podcast is roughly 30 minutes long and is completely unscripted and virtually unedited. We're discussing some serious topics but we also crack each other up, so there's lots of laughter. People tell us it's like sitting at the kitchen table with us listening in on our conversation. Shannon and I have so much fun recording it.
You can subscribe to the podcast on Apple Podcasts or Google Podcasts or Stitcher. Or you can just listen to it on the website, where we post a new episode each Thursday morning at 9.
If you give it a try, I hope you enjoy!