Great sale on shelving AND Elfa at the Container Store
If you're in the market for shelving or Elfa, now's the time to buy! At the beginning of every year the Container Store has a sale on Elfa, its fabulous shelving and drawer system. And then in the fall they have a shelving sale. If I'm remembering correctly, the only Elfa that was included in that sale was shelving.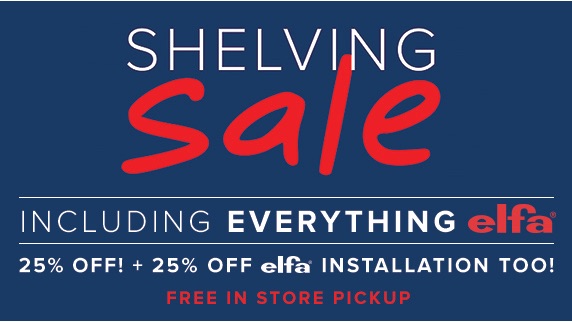 But this year is different. The shelving sale going on right now gets you 25% off all shelving, plus all Elfa, including drawers and other components, as well as Elfa installation. It makes me wish I had the need to buy some!
I use Elfa in my own home to store my yarn stash (as I mentioned in a post earlier this week). And I have a small Elfa system in a reach-in closet in my office. I also have three Elfa file carts in use. I've used Elfa drawers (similar to the ones I use for yarn) in several clients' homes to house kids' toys. And I have a couple of clients with small children who have really enjoyed the Elfa Kids' Coloring Table
Tempted? The sale ends October 16.
Tagged with: container store, elfa, organizing products