Great shower caddy
Sometimes I start using an organizing product that makes my life better. And when that happens, I like to tell you about it, in case it will make your life better too.
A couple of months ago, I purchased the "OXO three-tier shower caddy": http://www.oxo.com/p-755-3-tier-shower-caddy.aspx at Bed, Bath and Beyond. My metal shower caddy had become rusty and full of soap scum.
We have an old-fashioned claw-footed tub in our 100+-year-old home and so we have to use a caddy to hold soaps and shampoos—there are no corners or ledges to place things on.
The great thing about this caddy is that it has removable plastic trays, so you can wash them. It is designed so that any liquid drains out of the soap dish. And there are holes in it so that you can place bottles in cap down when you're running low on shampoo in a bottle. It's such a smart design.
Here's a photo of mine. The top shelf is usually empty, but the day I took this I had a houseguest, so there was room for her to put her shampoo and stuff. Isn't that great?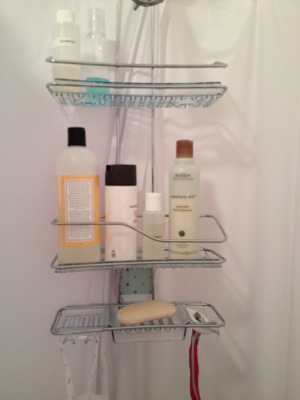 Since I purchased it, every time I take a shower it makes me smile. Thirty dollars felt a little spendy at first glance, but I found this product to be well worth the money. (And, since I bought it at Bed, Bath and Beyond, I was able to use a 20 percent off coupon.)
Just had to share!
Tagged with: organizing products, oxo