I love my timer
I've been keeping sort of a crazy schedule for the last week. Lots of work outside the home, lots of phone time at home, quite a bit of fatigue. The result is that my email inbox, which I usually try very hard to keep under control, has grown and grown.
As I've mentioned before, my friend Aby Garvey and I provide accountability to one another to keep our inboxes down to 15 or fewer messages at the end of the day. This week, I just emailed her and told her that I wouldn't be able to do anything about my inbox until Friday.
Here it is Friday morning. I'd been glancing at email throughout the week, but not taking a whole lot of action with it. So I had a couple of hundred messages in there, most of them needing reply. I felt overwhelmed. But I knew I had to tame it.
So I set a timer. My timer of choice is the Time Timer, which gives a visual representation of the passage of time. I use the plastic one at clients' homes sometimes. And when I'm at my desk, I use the electronic version. Here's a photo: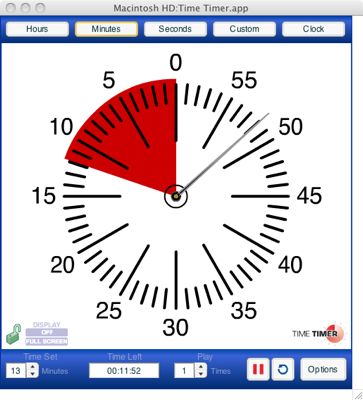 I set my timer for 13 minutes, because at the end of 13 minutes I'd be at the top of an hour. Knowing that I was putting my nose to the grindstone and focusing on email for that period of time helped me push on without thinking about taking a break and without getting distracted by other concerns.
I had to do two of these timed bursts as time-management guru Mark Forster calls them in order to get my email inbox trimmed to about 20 emails that I'll get to throughout the day.
Breaking big projects down into small tasks, or working on projects for small bits of time is a great way to fight feelings of overwhelm. And a timer can be your best friend when you're going for those timed bursts.
Next time you're feeling overwhelmed, grab a kitchen timer and get to work on part of the thing that's overwhelming you, even if it's only for ten minutes. The timer helps you focus. And it's amazing what you can do when you focus.
Tagged with: aby garvey, email, mark forster, time management, time timer