Is my purse perfect? Almost.
Three years ago, I blogged about how I loved my Butler Bag. This dandy little purse has a rigid compartmentalized insert in the bottom that allowed me to keep every in easy reach.
I loved it, and I used it daily for a year and a half. And then I bought an iPad. I wanted to carry my iPad with me all the time, but it was too big for my Butler Bag. I tried a larger Butler Bag tote, but the tote was so deep that the rigid compartments on the bottom couldn't keep everything organized. I'd sink my arms in elbow deep and have to feel around for things.
So I switched to a Franklin Covey tote (I'm on my second one) and while it's not as fabulous as the Butler Bag was, I felt like it was okay. Until now. Now it's great.
That's because I was given a Purse Perfector, a niftyhandbag organizer insert, as a thank you for writing an upcoming post for their website. (I'll let you know when that goes live; it's about keeping the household desk functioning.) I had seen the Purse Perfector at the NAPO conference and was intrigued. I just hadn't tried it out before now.
Here's the bottom line: the Purse Perfector has made my Franklin Covey tote as functional as a Butler Bag. And that's a wonderful thing.
At the NAPO conference, I let Purse Perfector inventor Lyn Marstellar take a "before" picture of my bag. It was particularly out of control since I was at a conference.
Here's that photo: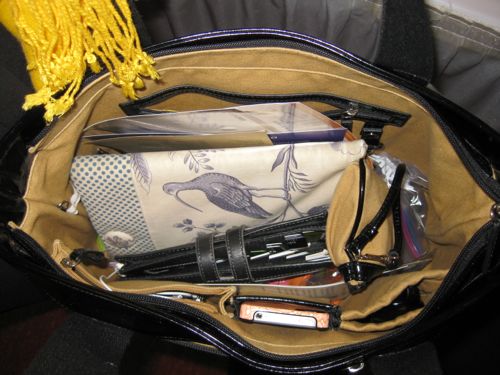 My purse was chaotic, at best
I took my Purse Perfector back to my room and had an enjoyable 10 minutes reorganizing my purse. The next morning, Lyn took an "after" shot.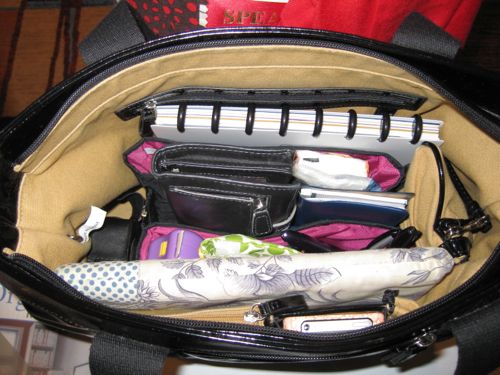 There's a lot of stuff in my purse, but now I can find it
I don't usually carry that much stuff around, but these were extraordinary times. Thanks to the Purse Perfector insert, I was able to add my ARC notebook rather than carrying it around separately.
One thing that Purse Perfector has going over the Butler Bag is that I can move it from bag to bag. I haven't done that yet, but I like that I can. And it consists of two compartmentalized units that zip together (creating a chasm in between where my wallet resides). You can unzip them and take just one with you, if you don't need as many compartments.
The Purse Perfector has made a big difference in making my big bag more wieldy. I'm now the proud owner of an iPhone and seem to be using my iPad less and less. So my next step will to move my Purse Perfector into a smaller bag and see how it works. (Another possibility: pull out my small Butler Bag and leave the Purse Perfector in the big bag.)
if you have trouble finding stuff in your purse, the Purse Perfector might make a big difference. I'm glad I tried it!
Tagged with: butler bag, organizing products, purse, purse perfector