It's that time: VOTE!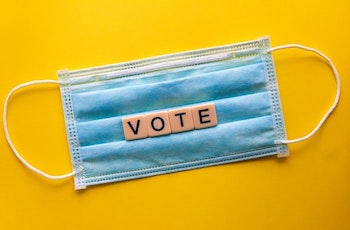 Election Day here in the U.S. is tomorrow, November 3. The world is watching. This is my eleventh presidential election as a voter. And I think it's the most important.
If you haven't voted already, please vote tomorrow. Or vote early today, if that is available to you. If you have a mail-in ballot, don't risk sending it in through the postal service at this late date. Drop it off, if possible. Or take it to the polls, have it spoiled, and vote in person.
If you've just now decided that you want to vote, it's not too late, assuming you're a registered voter. (If you live in Washington, D.C. or one of the 21 states that allow same-day registration, you can register to vote on election day.) Go to vote.org to check your registration status and find or confirm your polling place.
If you're voting in person tomorrow, please allow plenty of time. You may need to stand in line for awhile. But it's worth waiting to make your voice heard. Bring along some water, maybe some snacks and a great attitude. And of course bring your mask.
It's been gratifying to read of the voter engagement in 2020. But it's important to remember that all the early votes may result in late results. So we will all need to be patient while waiting for the presidential election results to be determined. It's going to be an interesting week!
Photo by Glen Carrie on Unsplash