Join us for Declutter Happy Hour!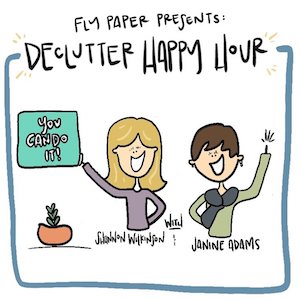 If you're a long-time reader of this blog, you may remember Declutter Happy Hour. It was a teleclass that life coach Shannon Wilkinson and I created back in 2009. We did it a couple of times as a live teleclass and then morphed it into an ecourse before we retired it. We didn't know it then, but it was a precursor to the podcast that Shanon and I now host, Getting to Good Enough.
Here's a piece of exciting news: Our friends at Fly Paper have invited us to bring Declutter Happy Hour back! This time it will be via Zoom, rather than the telephone, which will make it even more fun.
Declutter Happy Hour is a live experience where you actually get some decluttering done. I think it's really special because infuses the decluttering process with a secret ingredient: mindset change courtesy of Shanon's mad skills in hypnosis and neurolinguistic programming (NLP). And I guarantee that there will be plenty of fun and laughter.
Each of the four sessions starts with a discussion led by Shannon and me about an important aspect of the decluttering process and the mindset shift that goes with it.
Then, during the class, you get time to work on a decluttering project of your choice. Whatever you decide to work on, Shannon and I will stay in the Zoom room, ready and waiting to answer any questions and provide support and encouragement.
By the end of a month of Declutter Happy Hours you'll have let go of more than just stuff and you'll have the tools to take on decluttering projects on your own.
Declutter Happy Hour will be held each Wednesday in February from 6 to 7:30 pm central time. Register at eventbrite but don't delay! Space is limited so we can make sure your questions get answered.
I'd love to see you there!
Enrollment is closed for the February 2021 Declutter Happy Hour, but we may offer it again this year. Drop me an email if you're interested in hearing about new sessions!
Tagged with: declutter happy hour, events, shannon wilkinson