Letting laundry help me get things done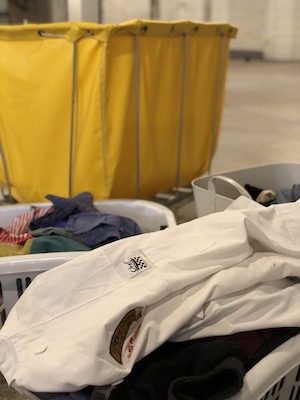 Back in 2010, I wrote a post called Laundry as a time-management tool. I thought of that post yesterday morning, when I realized I needed to fit laundry into my work-at-my-desk day. I ordinarily do laundry on the weekend but I was out of town this past weekend—and I didn't have enough pairs of underwear to tide me over.
I decided to put the principles of that post to work. And of course I decided to blog about it.
Just as I did nine years ago, I realized I could use the laundry as a tool to help me stay focused. The time-management guru, Mark Forster talks about the concept of "timed bursts" in his excellent book, Do It Tomorrow and Other Secrets of Time Management
. With timed bursts, I use a timer and focus on my work until the timer goes off. At that very instant, I stop what I'm doing and take a break. By interrupting myself mid-task I make it easier to get back to work, because the brain craves completion.
Yesterday's laundry breaks also gave me a chance to refocus on what I was supposed to be doing. Since I was away for the last five days, I had a task list as long as my arm. Unfortunately, I find that it's really easy to get sidetracked by tasks that occur to me but aren't on the list. Physically getting up to deal with the laundry allowed me to focus on my list again when I sat back down.
Mark says that taking these breaks allows you to get more done. "If you work on something for three bursts of 20 minutes," he writes in Do It Tomorrow, "you are likely to get more done than if you do an hour's untimed work on it."
So I decided to make the intervals where the laundry was washing and drying my timed burst. I set a timer and when it went off, I immediately got up from my desk, transferred the wet laundry and folded and put away the dry clothes. That was about a five- to ten-minute break. Once the clothes were dealt with, I headed right back to work.
It worked very nicely, and the result—clean laundry + items checked off my list—was truly rewarding!
Tagged with: mark forster, time management