My new favorite container - it comes with yogurt!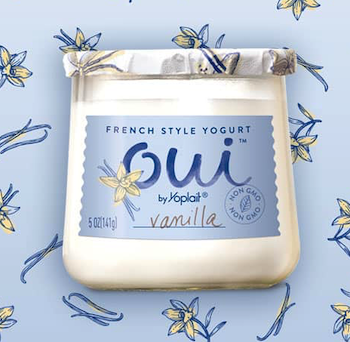 I've become enamored of Oui by Yoplait French-style yogurt, which is sold in little glass jars. The jar contains 5 ounces of tasty yogurt. (They've introduced a Petite, 3.5-ounce version, but I haven't tried that yet.) The yogurt is great but I buy Oui for the jars. For just about a dollar and a half I get a really useful container (and a snack). The labels peel off easily without residue and the jar comes out of the dishwasher clean as a whistle.
What do I use them for?
They're great pen holders. I've taken up hand lettering, and true to form I have purchased a bunch of pens to feed my habit. These little jars are great holding categories of pens and markers. (More on my pen organization soon, I promise.)
I use them to hold pairs of glasses on end on my desk, which keeps them handy. (I have many pairs of glasses for various uses.)
I put cotton balls in them in the bathroom and I also use one to hold my brush upright
I decorated one with Washi tape to use on the sink as a toothbrush holder for guests
I could also see using them in the kitchen as small drinking glasses. Or yogurt cups!
Here's a photo of two Oui jars holding some markers on my desk. I used a little Washi tape to pretty them up.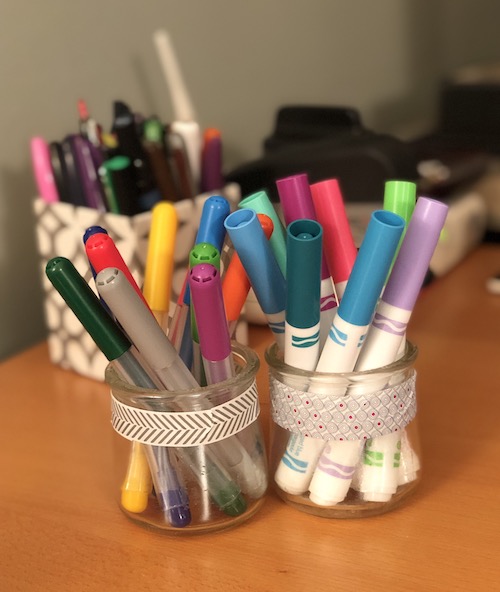 I just discovered that Yoplait sells plastic lids made especially for these jars! They cost $1.00 each and are sold in packs of four, in clear or navy blue. The lids could add a whole new dimension to how you can use the jars. (Spices come to mind.)
And one more thing: The yogurt comes with a foil cover. When you peel it off, there's a delightful message on the inside. For example, "You've got this." And "Buy yourself flowers." I love it.
I hope this product sticks around for awhile because I'm confident I can find many more uses for these fabulous little jars!
Tagged with: organizing products