My recommended paper planner
When it comes to managing my tasks, I tend to focus on electronic options. I do occasionally write my daily tasks down on a piece of paper, but it's been a long time since I purchased a planner. Don't get me wrong: I love paper planners. Nothing would make my heart go pitter patter when I was in my twenties than a sleek planner system. But nowadays, I'm more drawn to the portability, flexibility and ease of use of electronic task management systems.
I do have clients who struggle with task management who prefer a paper planner. And, depending on their needs, my go-to recommendation is the Planner Pad® Organizer. It was the last paper planner I used before going electronic. The company's been around for over 40 years and I started using it so long ago that it came with a cassette tape instructing me how to use it.
Recently the folks at Planner Pad reached out to me and asked me to be a part of their affiliate program. (I get a small commission if you purchase from one of these links.) I asked them to send me a sample of a current planner to make sure it hasn't changed since I last used it. I was happy to see that the design has stood the test of time and hasn't really changed at all. I am pleased to recommend it to people who are looking for a paper planning system that allows them to see and schedule their tasks.
The Planner Pad is a two-page-per-week organizer. Each month opens with a month-at-a-glance page and a full page for notes. In the opening pages, there is also three-years-at-a-glance page and several two-page-per-year planning pages. So you get a variety of calendar views for planning purposes.
But the day-to-day use is in the two-pages weekly. Those pages are divided into eight columns, one for each day of the week and one to makes notes of calls or expenses (as well as three thumbnail monthly calendars for the immediate past, present, and future months).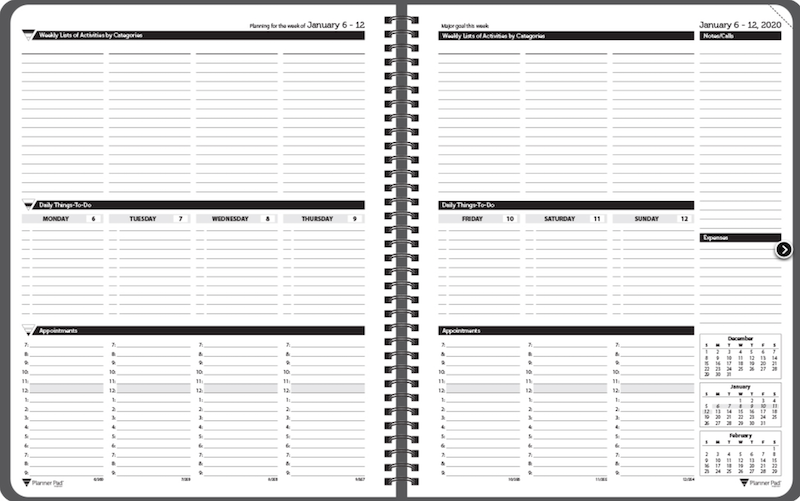 Each spread is divided into three horizontal sections. The top section is where you write your weekly task list, divided up by category. The middle section allows you to assign those tasks to a specific day. And in the bottom, timed section you can schedule the work around your appointments.
When I was using the Planner Pad, I loved that I could group my tasks by category (financial, clients, personal, etc) and see them all in one spread. That beginning-of-the-week brain dump was very beneficial. Then scheduling the tasks meant they actually got done.
And I also liked the calendars at the back of the planner that allowed for future planning.
One advantage that electronic task management tends to have over paper planners is that you don't have to re-write tasks. The Planner Pad addresses that by printing a dashed line on the corner of each right-hand page. They suggest that you turn down the corner if you haven't finished all the tasks on a spread so that you can easily revisit it when planning your week's tasks, without having to rewrite. In reality, I found that hard to implement and would just rewrite the tasks. But it is an intriguing idea.
Planner Pad comes in loose-leaf and spiral-bound editions. It comes in three sizes and in dated and undated versions. There's a dated version that starts at the beginning of each quarter, so you don't have to wait until the new year to start! To learn more about Planner Pad Organizers, check out their website, where you'll find all the products (including some accessories), along with videos and testimonials. Planner Pad comes with a six-month guarantee for new customers.
Between now and June 30, 2020. you can use the coupon code AFF2020 to get 20 percent off your purchase!
Tagged with: planner pad, task list, task management, time management