NAPO's new and improved website
The website of the National Association of Professional Organizers has undergone a complete overhaul. Thanks to the hard work of Lauren Halagarda and her committee the website is more user-friendly, attractive, and informative. I had the opportunity to help as a tester at the very end of the process. I can only imagine all the work that went into the development.
From what I can tell, people are loving it. I know I am. Here's a shot of the top part of the opening screen: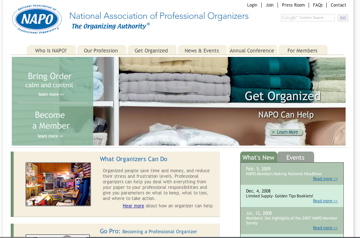 Bravo!
Tagged with: lauren halagarda, napo, websites