New podcast! Getting to Good Enough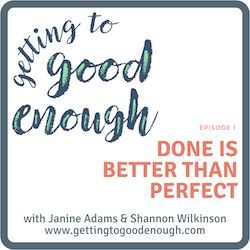 I am ridiculously excited to announce the launch of the new podcast Getting to Good Enough, hosted by me and pal and life coach Shannon Wilkinson.
It feels really good to be collaborating with Shannon again. We have co-presented in-person workshops on more than one occasion. Wepartnered on Declutter Happy Hour, back in the day, along with Quick Clutter Fix and Why Resolutions Don't Work (and How to Get What You Want Anyway). All those projects were fun, but they're not for sale anymore.
This podcast was Shannon's idea and I jumped at the chance to work with her again. It is designed to help you overcome perfectionism so you can live the life you want to lead. We come at it from different perspectives: I'm lucky enough naturally good at good enough. As you know if you've been reading my blog for awhile, my personal mantra is let it be easy. Shannon is a born perfectionist, but she's actively working toward being a "good enough" person. Both of us see in our clients out perfectionism can get in their way.
In the podcast we address different strategies for getting past perfectionism. We each put together a list of podcast topics and on the first pass had more than 50. So clearly we have a lot to say. Shannon and I love talking about this stuff with one another and we have a whole lot of fun doing it. We hope it's fun to listen to too!
We launched the podcast on June 15 with the first three episodes and we intend to publish a new one each week. You can subscribe at iTunes or listen on the Getting to Good Enough website.
We hope you'll give it a listen, feel free to make comments, and help us spread the word!