November tiny projects challenge: Day 3
When I look around my house, it's not hard to find tiny projects for this series! Today, I cleaned up some surfaces that had become a dumping area in my home.
We live in a large, old house that was built for two families back in 1908. When we bought it in 1992, we lived upstairs and rented out the downstairs apartment. But now we live in the whole thing, still residing primarily on the second floor. My office is the first-floor master bedroom and I've spread out to the first-floor dining room. In 2008, I furnished that room to store the organizing materials I take to people's homes. I bought two IKEA Expedits (that piece of furniture has been replaced by the Kallax) and put legs on them.
I have no problem with the storage part of the furniture. The tricky part is the surface. That's where I tend to dump stuff to get it out of the way. I don't spend much time in that room, but I pass through it every day on my way to my office. Today, I decided it was high time to clear off those surfaces and tidy up the cubes.
Here's the before picture: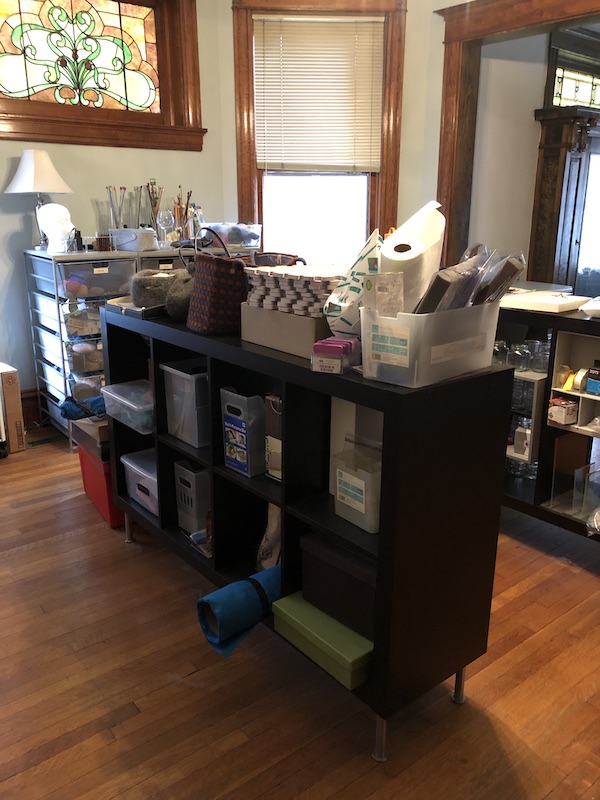 This is a great example of a tiny project, because it took me only 15 minutes—including dusting!—to go from eyesore to visual peace.
Here's how it looked 15 minutes later.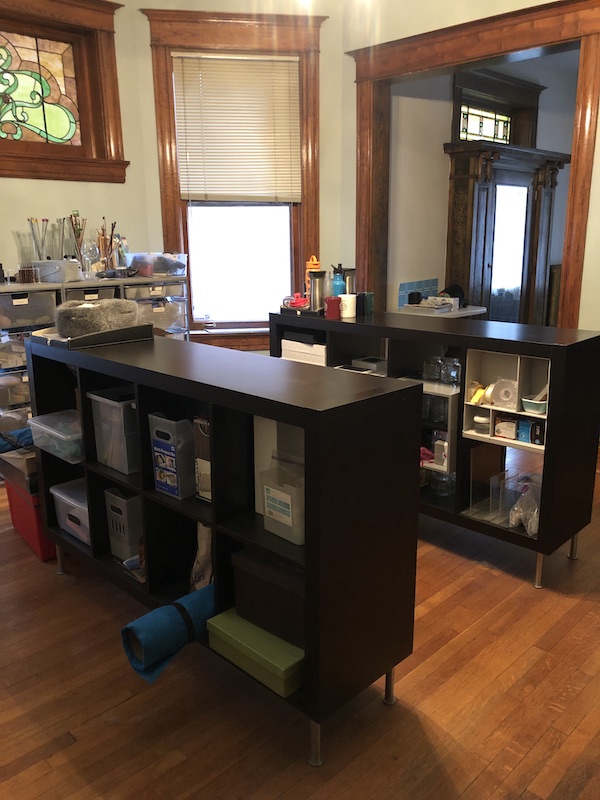 All I had to do was put some stuff away. Why do I let it build up? (That's a rhetorical question.)
Among the items cluttering up the space were things I wanted to donate, which I moved to the little folding table I had set up from this fall when I was notarizing ballots on my porch. So I need to donate that stuff and tidy up the knitting-related items that are on top the Elfa drawers containing my yarn stash. (That's another surface that attracts clutter.) Once I accomplish that, I'll feel great about that space again.
Once again, it's amazing what 15 minutes of focused tidying will do!
Tagged with: 15 minutes, office supplies, organizing, tiny projects