Office closet makeover
My office is in an extra bedroom of my house. It has two closets, one of which is a small reach-in closet that's original to our 103-year-old house.
When this room became my office in 2001, I was a freelance writer. I decided to put my four-drawer filing cabinet in it, which pretty much took the whole closet. I put a bookshelf on the top of the shelf in the closet to store some papers. And that was that.
Over the years, I didn't tend to the closet and it became more disheveled. I virtually never touched the stuff on the shelf.
I was itching to install some elfa shelving in my home and decided this closet was a prime candidate. I recruited my friend, Sally to come help me transform the closet. Step one was decluttering.
Here's a photograph of the closet before we started.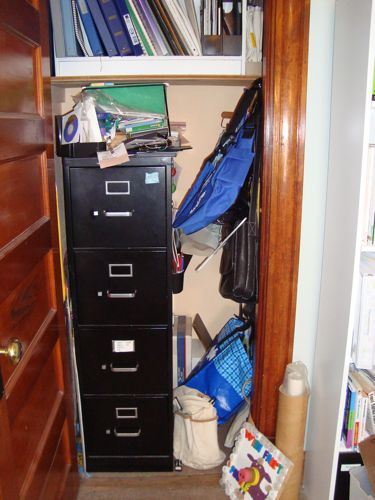 The messy closet before we started
We spent a couple of hours decluttering and I was ruthless. I got rid of book manuscripts, release forms from interviewees for books that are now out of print, all sorts of stuff I hadn't look at in nine years. I did keep some sentimental items and some evidence of accomplishments in past jobs.
When we were through for the day, the closet already looked much better.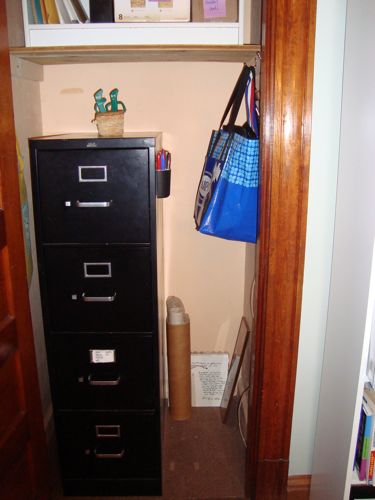 After a couple of hours decluttering
We explored some options for the closet. I knew I wanted elfa and I knew that the file cabinet was a big impediment to using that closet with elfa. So I decided that between that day and a couple of weeks later when Sally agreed to come back, I'd weed out my files so that the ones I needed in my office would fit in an elfa file cart.
I went to the Container Store, bought an elfa Office in a Closet kit for only $162 during their sale. I also picked up some desk accessories to put on the shelves. And I bought an elfa file cart.
When Sally came back, we moved the file cabinet to our unfinished basement and I moved two file bins worth of files from my writing career into that cabinet. We painted the closet to match the Restoration Hardware silver sage paint that my office is painted in.
A week later, Sally came back and helped me install the Elfa. I knew it would be simple, but I'm not handy with a drill and didn't want to try it on my own. Sally assures me that Elfa is as simple as purported and very smart and adjustable.
Here's the after picture: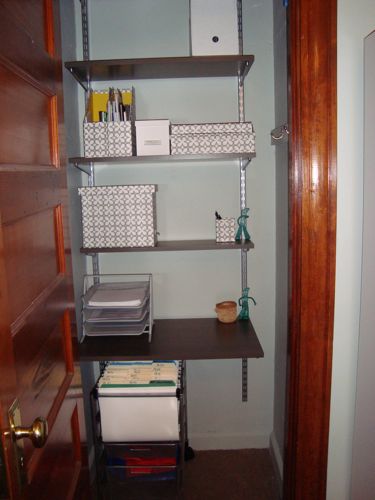 We painted the closet and installed some Elfa...ahhhh!
I did such a good job of decluttering that I don't have a whole lot to store in the closet at the moment, but I love having room to grow.
It feels positively liberating and I smile each time I look in the closet. (I keep the door open, so I can gaze in from my desk.) Having a friend do this kind of project with you can make all the difference in the world (as can hiring a professional organizer, if you're short of friends crazy enough to help you this way). Thank you, Sally!
Tagged with: closets, container store, elfa, sally brown