Organized travel documents
I went on a week-long trip to visit my parents in mid-July. It involved air travel, car rental, and hotel stay (my parents live in a small condo, so I don't stay with them).
I'm not a nervous traveler, but I definitely like to have my ducks in a row. So I was delighted when Smead sent me a two-pack of their Travel Organizer to try out and consider blogging about. This is a three-sectioned document holder, and each section has an index tab. There's a pocket in the front with velcro closure for receipts (or it could be used for boarding passes). A tab that comes from the back over the front keeps papers from falling out.
I customized my Travel Organizer for this trip with my handy Brother P-Touch label maker. To make it prettier and easier to spot in my bag, I used berry pink
labels with white writing. I labeled the whole folder for the trip, then put labels on each tab for plane, car, and hotel.
Here's a photo of my customized travel organizer: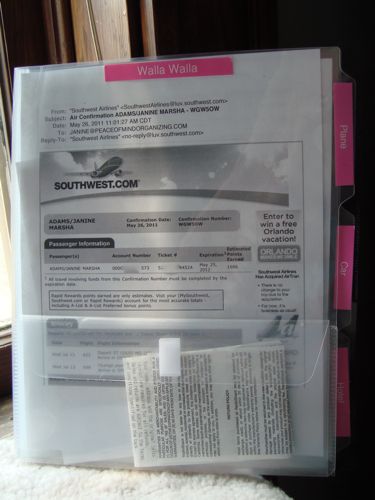 I customized the organizer for my trip.
Talk about having my ducks in a row! I was able to find just what I needed quickly and easily. I had a safe place to stash my receipts so my wallet didn't get clogged. I haven't yet entered my receipts in to Quickbooks (this week, I promise!) so they're all in a safe place awaiting entry.
I foresee changing the trip label and using the Travel Organizer for each trip I take. Being able to create three separate sections and access them easily is a step above the colored poly slash folder I've been using for years when I travel.
Tagged with: paper management, smead, travel