Packing light is worth the effort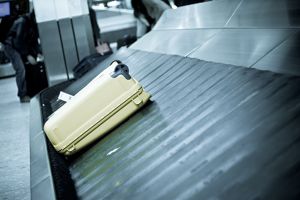 In early December I traveled to Washington state to visit my parents just days after I broke my wrist. I blogged then that I would have to simplify my travel taking the bare minimum number of items so that I could lift my suitcase with one hand. Since I also couldn't fasten pants with a zipper, the number of clothing items I could take was limited anyway.
I really liked packing light. It had a number of advantages:
My light suitcase made travel easier
It was easy to carry my suitcase up the stairs at my host's house
Fewer choices for what to wear made dressing easier
Unpacking took less time
Now I'm planning another trip to visit my parents, which is being tacked on to a trip to a genealogy conference. I'm a convert to packing light, but I also want to look good at my conference. That feels like a much bigger challenge.
I know I can do it, since my wardrobe is comprised of mix-and-match neutral separates (thanks to personal style coaching from my friend, Geralin Thomas). It's going to take a little more effort as I plan what to pack. It's much easier to just throw items into a suitcase just in case I might need them. But doing some planning and mindful packing before I leave will make my entire trip easier.
It seems ironic to me that packing light is can be more work than packing heavy. But I think it's worth the effort.
Photo by Camilo Rueda Lopez via Flickr.
Tagged with: simplicity, travel