Register now for August 29 "Ask the Organizer" panel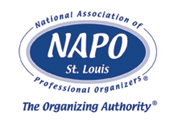 If you're in St. Louis, I hope you'll consider coming to a fun event where you can get your organizing questions answered live and in person. Here's the best part: It costs only $10!
On Saturday, August 29, from 9:30 to 11:30 am the St. Louis chapter of the National Association of Professional Organizers is putting on a Q&A panel event called Keep Calm and Ask a Professional Organizer. All are welcome.
There will be two panels, one whose panelists are professional organizers and one with associate members of the chapter—companies that provide products and/or services that complement organizing.
This event was originally scheduled for February 21, but had to be canceled due to inclement weather.
I'm one of the professional organizer panelists. Here's the lineup for that panel:
The Professional Organizer panel is being moderated by Shannon Tamme of Shannon Tamme LLC.
Here are the companies being represented on the Associate Member panel:
The Associate Member panel is being moderated by Lisa Gilliam of Six Hour Organizer.
The event is being held at The Lodge Des Peres, 1050 Des Peres Rd, Des Peres, MO 63131.
Please come with all your organizing questions—we'll be prepared to answer them! And please come up before or after and introduce yourself to me!
Registration is only $10. For more information and to register, visit the NAPO-St. Louis website.
Tagged with: events, napo, napo st. louis, organizing questions