Reigning in the charging cables
One challenge that the modern gadget-using family must contend with is the abundance of charging cables necessary to keep those devices up and running. There's a sad lack of standardization and you may have as many different kinds of cables as you have different kinds of devices.
I deal with this in my house—I have an iPhone 4S, iPad Air, and Kindle Paperwhite that all need frequent recharging. Each of those devices uses a different cable. (When I replace my iPhone soon, I'll be able to reduce the necessary charging cables by one.) Happily for me, my husband deals with his charging needs in his home office, so I don't have to factor in his devices.
We have a wine refrigerator in our dining room that sits next to an outlet and has served as my charging area. Originally, I had a 10-watt USB charger plugged into the outlet and I would switch out the charging cable plugged into the USB port. I kept the cables that weren't in use in a bowl, using labeled binder clips to keep them neat and easy to identify.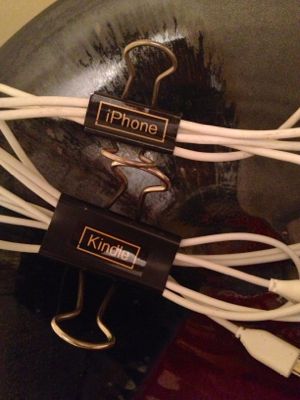 But having to bend down to switch out the USB cable in the wall charger was a drag, so I purchased a four-port USB charger so I could keep my cables plugged in and just switch them out without bending over.
But then I had to figure out how to neatly store the cables that were plugged into the wall, waiting to be used. Luckily for me, the makers of MOS a new, stylish cable solution, offered to send me one to try out. Perfect timing—it's proven to be a great solution to my problem.
The MOS (which stands for Magnetic Organization System) uses strong magnets, coupled with included magnetic cable ties, to hold your loose cables in place. It has a real Apple aesthetic (which of course pleases me). In fact, the company brags that it is the only cable organizer that Apple will sell in its North American stores.
The base (which contains a strong magnet) is very secure atop my metal wine fridge. If I wanted to mount it on a non-metal surface, the bottom is covered in micro suction cups to hold it in place. An adhesive mounting circle is included for use on a wall.
Here's a company photo of the product in use.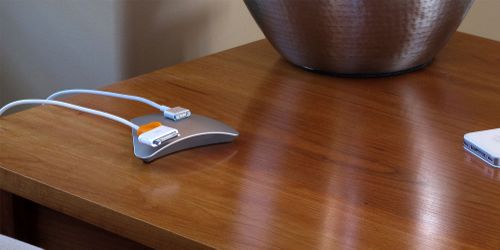 Isn't that elegant? In my house, it's somehow not quite as gorgeous, but I think it's working out very well.
At $20 (on Amazon), the MOS isn't cheap. But it does serve a real need. I'm contemplating buying a second one to use next to my computer. And perhaps the upcoming MOS Menos mini version for use in my car.