Revisiting personal kanban
Back in 2010, I discovered personal kanban , a system of visual task management that I used for awhile. In a nutshell, I divided a large whiteboard into three sections, Backlog, Doing, and Done. Then I'd use Post-It® notes to write down individual tasks and move them through the process.
It worked nicely for me for a few months, but the lack of portability was problematic and my tasks outgrew the Backlog section. So I switched to something else.
Since then, I've starting using electronic task management. At the moment I'm using TeuxDeux. (See my recent post, Getting back to basics with task management for more info on that).
Last week, I started to feel a little overwhelmed by the things I needed to get done. When that happens, I tend to avoid looking at my task list, which is obviously counterproductive.
So I decided to do a short-term, small-scale implementation of personal kanban. I took a clear clipboard from my office-supply closet and used purple Scotch Expressions Tape to divide it into three sections. I then wrote the tasks I needed to accomplish on small Post-Its (one per Post-It). I tried to keep just one task in the doing column. Before I knew it, i was moving plenty of tasks to the right-hand Done column.
Here's a photo of the board.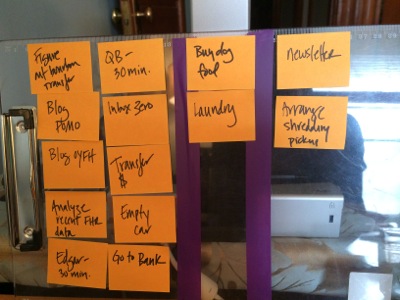 I've become rededicated to the idea of selecting three or four tasks each night to focus on the next day. And I'm also selecting my blog post topic each night and putting it on the kanban clipboard for the next morning. Having these tasks on the clipboard allows me to easily focus on them, adding more from my TeuxDeux list as the tasks move there way to the Done section.
I see this as sort of a back up measure for the days I'm feeling overwhelmed or unable to focus on my larger task list. The fact that it's in my face (rather than tucked away on my phone or in another tab on my browser) is very helpful right now.
I'm a fan of switching up task-management techniques when they start getting stale. Right now, this is working nicely for me!
Tagged with: habits, personal kanban, productivity, routines, task management, time management