Send to Trello Safari bookmark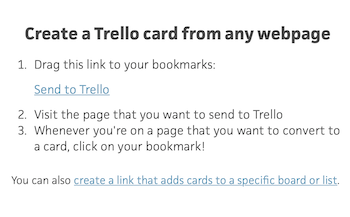 Last month, I blogged about Nine ways I use Trello. I still absolutely love Trello and use it daily. It seems like I'm always finding new ways to use it. (Most recent addition: a board to keep track of where I needed to change my head shot, since I had new pictures taken.)
It became even easier to use when my friend (and Getting to Good Enough cohost) Shannon Wilkinson clued me into the Send to Trello bookmark shortcut for Safari. I use Safari for most of my browsing and was happy to learn that with this little tool any website I'm visiting can be turned into a Trello card and placed on a board.
The two places I'm using the most are my Kindle library (I can now effortlessly place a photo of the cover of a book on its card!) and my board of suggested organizing products to show clients. I know there are going to be many other applications as well.
To install the bookmark, just click on the Add Card page on the Trello website. If you're not already showing your Favorites Bar at the top of your browser screen (under the URL box), click "Show Favorites Bar" under View. Then drag the "Send to Trello" link from the Add Card page to your Favorites Bar. It's that easy.
The next time you're browsing in Safari and see something you want to save, just click on the Send to Trello bookmark and you'll be asked what board to save it to. One more click and you've created a Trello card from that site.
It's a game changer!
Tagged with: task management, time management, trello