Shopping nirvana
I had a day yesterday that was absolute heaven. My friend, Geralin Thomas, who among other things does wardrobe consulting, is in town for the annual conference of the National Study Group on Chronic Disorganization. She came in a day early, arriving at 8 a.m. yesterday morning, to see me and to do some wardrobe organizing and enhancing.
Oh. My. God. Was it fun! We started in my closet, where she took a look at everything. We donated a bunch of stuff (she held my feet to the fire and said I could keep only four pairs of khaki pants and two khaki capris) and then organized what's left by type and color. Then—and here's the best part—she wrote down what I needed to buy to complete outfits. Seems I had a lot of separates that require some glue (or perhaps mortar) to hold them together.
Then we went shopping. And I mean power shopping. Geralin's really good at this. Where I'm overwhelmed by the choices and paralyzed by indecision, she hones in on just what we're looking for from our list. I'm telling you, it was heaven. Because she did such a great job of selecting what to try on, I tried on very little that wasn't terrific.
I ended up buying a silk twinset, a merino cardigan and a sequined cardigan, something like five tops, two jackets, a belt, earrings, two pins and four pairs of shoes! And two of the pairs of shoes are neither black nor brown. And three are patent leather!
Oh and we went to Knitty Couture, the wonderful yarn store, where Geralin picked out the color of Rowan Cocoon I bought to make a Kim Hargreaves sweater called Valiant. (She picked a color called, Cloud, a pretty light blue.) And she picked out two colors of Cascade 220 (colors 8229 & 8234) yarn for me to make a reversible brioche hat, which I'll learn to make at a Knitty Couture class.
After our day of shopping, we met up with the fabulous Aby Garvey for a fun and delicious dinner at Mosaic, a tapas restaurant in the loft district in St. Louis. Here's a picture of us after dinner: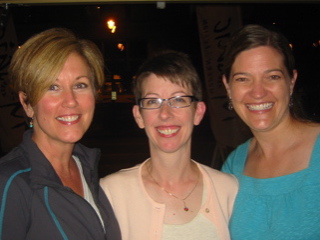 Geralin Thomas, me, and Aby Garvey
I can't thank Geralin enough. I feel a little like Eliza Doolittle—at the end of the movie, of course!
Tagged with: aby garvey, closets, geralin thomas, shopping, wardrobe