Sign up for free organizing expert webinar series hosted by Samantha Pregenzer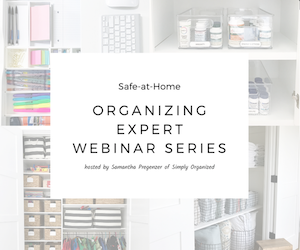 I don't know if you're familiar with Samantha Pregenzer of SO | Home and the Simply Organized Blog . Chances are good you are: Her simplyorganized account on Instagram has over 200,000 followers and she is an organizing rock star.
She's also a member of the National Association of Productivity and Organizing Professionals (NAPO), as am I. Recently, Sam reached out to her NAPO colleagues to put together a two-week live webinar series in which she will be interviewing NAPO members on specific topics outside her expertise.
I'm happy to say that I'm one of those experts. I'll be talking with Sam about getting started in genealogy and organizing genealogy research on Thursday, April 30.
The Safe-at-Home Organizing Expert Series kicks off on Monday April 20 at 1 pm eastern/10 am pacific. Sam will be interviewing one expert per day at that time. You can read all about the lineup for the first week on Sam's blog and you can sign up for the series (it's free) on the Crowdcast website.
I think this will be a great way to learn from a lot of good folks about a variety of topics. And I'm delighted to participate!
Tagged with: samantha pregenzer, webinars, workshops