Sign up for Yoga with Adriene's next 30-day yoga journey!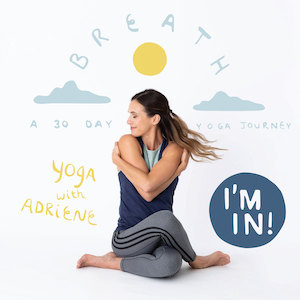 I'm a gigantic fan of Adriene Mishler, the amazing woman behind Yoga with Adriene. I started doing her free YouTube videos two years ago, on December 12, 2018. ( Just five days later, I blogged about how I got past my barriers and got started in my post Starting yoga where I am.) I've written a number of posts about how great this yoga practice is for me. (Here's one of my favorites: Nine things I love about Yoga with Adriene.)
I was really excited yesterday when Adriene announced her next 30-day yoga journey. She does this every January. It's a 30-day practice, one video released per day, created around a theme. I loved January 2020's Home practice so much I did the whole thing twice (or was it three times?). The 2021 theme is Breath. That's something we can all benefit from focusing on and I'm sure it will be hugely beneficial during this time of transition.
One of the things I love about the 30-day yoga journeys is that I don't have to make a choice about which yoga practice to do. (When I'm not doing a 30-day program, I feel free to pick and choose among Adriene's vast library of videos.)
I'm proud to say that I've developed an ingrained daily at-home yoga practice. I haven't missed a day since April 1, 2020. Being home so much has helped me find time and, perhaps more importantly, find the time of day that's best for me. (I do it after I'm spent some time at the computer in the morning and before I walk Bix.)
I'm very excited about the upcoming 30-day journey. Whether you're new to yoga or an experienced yogi (or anything in between), I encourage you to check it out and sign up! Like all her videos, it's free of charge.
P.S. In case you're interested, here's a wonderful profile of Adriene that appeared in the New York Times several weeks ago.
Tagged with: adriene mishler, exercise, habits, routines, yoga, yoga with adriene