Storing cards to send later
If you're like me and like to pick up greeting cards when they're on sale or when you find one you really like (or, if you like to reuse cards like I do), sometimes storing them can get tricky.
I'm usually looking for a card in a hurry, like when I'm heading out the door to meet a friend and realize her birthday is coming up. Some years back, I started storing my cards by category using a desktop file box. Now it's really easy to find what I want in a hurry. I've suggested this to several clients, who found it to be an easy-to-maintain system as well.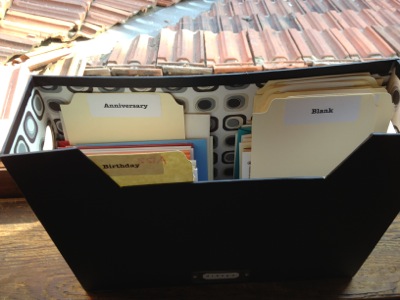 That's our tile porch roof in the background.
Here's what you do:
Take a container, either a shallow desktop file box like mine or a plastic (or even cardboard) shoe box. Or use any container that fits cards well.
Sort your cards into whatever categories work for you.
Create labels, either using a label maker, printing Avery address labels (which is what I did), or hand writing a label right on the file tab.
Cut manila file folders so they're about the width of a card, using the section of the folder surrounding the 1/3-cut tab. Cut the folder at the bottom as well, so that your file folder divider is just a single thickness.
Simply rest the cards upright in the file box, using the modified file folders as dividers to separate the categories.
The great thing about this is that the cards become very easy to flip through. At one point in my life, a couple of decades ago, I tried using an accordion file. But that took many more steps to access. This has been terrific. Happy card giving!