The Wobbly Circles tote!
My Wobbly Circles tote is completed and I love it! I finished seaming it on Sunday. My friend Lisa showed infinite patience in helping me with the gussets that help form the box bottom of the bag. (The tote is from the Spring 2006 issue of Interweave Knits.)
It felted really quickly—just about 20 minutes in the washing machine Sunday evening. I used Decadence bulky-weight yarn from Knit Picks, which is 100 percent superfine alpaca. When the bag came out of the washer it smelled like what I imagine wet alpacas smell like. Thankfully, that smell (which was strangely reminiscent of the smell of someone getting a permanent wave at a hair salon) wore off when the bag dried.
Without further ado, here it is. I was amazed at how much it shrunk in the felting process (but I love the size). If I'd been thinking, I'd have photographed it before felting.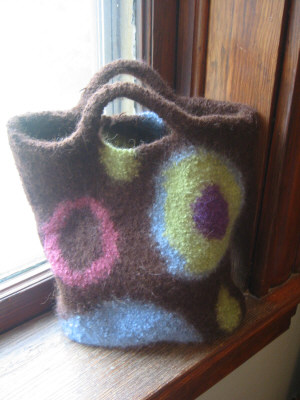 The Wobbly Circles Tote in all its felted, nubby glory
I think I'll use it as a knitting bag. I can't take wait to take it to my knitting group to show it off on Thursday! (Our group meets from 5 to 7 on Thursdays at the Westin Hotel at 8th and Spruce in downtown St. Louis. All are welcome! Special note: We don't meet when there's a home baseball game.)
Tagged with: knitpicks, westin knitting group, wobbly circles tote, yarn