The Power of Enough Zoom presentation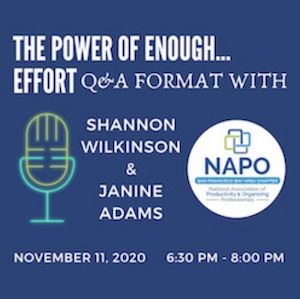 Since June 2018, life coach Shannon Wilkinson and I have hosted the weekly podcast, Getting to Good Enough, about letting go of perfectionism so you can do more of what you love. We just recorded Episode 128!
We were tickled to be invited by the San Francisco Bay Area chapter of the National Association of Productivity and Organizing Professionals (NAPO) to do a virtual presentation for their chapter (and anyone else who wants to buy a ticket) called the Power of Enough…Effort. Professional organizers are accustomed to talking with clients about identifying when they have enough physical stuff. In this presentation, Shannon and I will be talking about when to know you've put enough effort into something.
We embraced our motto "Let it be easy" when we set a couple of parameters before saying yes to the invitation. We requested a very informal presentation: No Powerpoint, no pre-set talking points. Instead, this will be an unrehearsed Zoom conversation where Shannon and I will discuss the power of enough effort and then answer questions from the audience.
The presentation will be on Wednesday, November 11, from 6:30 to 8:00 pm Pacific time. (This is the time frame for the chapter meeting; our presentation will take about 60 minutes of it, but I'm not sure which 60 minutes.) It occurs to me that some of you who read this blog (or listen to the podcast) might enjoy attending. The fee for those who aren't NAPO-SFBA members is $30. For more information and to register, visit the event page on the NAPO-SFBA website.
We're excited to model the power of enough in our presentation (as we do in our podcast)!
Tagged with: napo, perfectionism, podcast, shannon wilkinson