The power of the 30-day challenge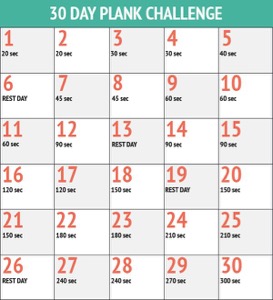 You've probably seen the various 30-day fitness challenges that have made the rounds. (I've tried the 30-day plank challenge and usually make it about 20 days before getting distracted.)
I think these challenges are popular because they build slowly and they have an ending point. That ending point is critical, in my opinion.
For the last couple of years, I've instituted what I call 30 × 30 challenges for my genealogy research. On my genealogy blog, Organize Your Family History, I challenge myself and my readers to doing 30 minutes of genealogy research 30 days in a row. I announced my June 2017 30 × 30 challenge yesterday. It's my fifth such challenge and I find they're very effective in ensuring that I don't put my genealogy research on the back burner.
There's something about the first day of the month that makes me want to make 30-day commitments. So this morning, I created a list of things I intend to do each day for the 30 days of June. In the interest of public accountability, I'll post them here:
daily exercise (I've been trying to implement some back exercises)
30-day plank challenge
daily genealogy research (of course)
daily effort toward some new products I'm writing and will put up for sale
four days of blogging per week (I try to do that every month, but want to make a special effort to do consistently this month)
work on Quickbooks daily (after I've caught up with Quickbooks, I'll just record the day's transactions)
clean off my physical desktop daily (I wax and wane on that one)
be very mindful in my spending in June; each day in June I will think carefully before spending any money
I've decided that my key word for June is discipline. Since I know I have to disciplined for just a month (watch out, world, on July 1!), it feels more like an opportunity and less like a sentence.
How about you? Is there anything you would like to commit to doing for 30 days?
Tagged with: challenges, genealogy, habits, routines