The Time Timer
Are you familiar with the Time Timer? It's a tool, often recommended for people with ADD, that gives a visual representation of the passage of time. When you turn the dial to the number of minutes you want to time (which are arranged counter-clockwise from the 12 o'clock position on the dial), the number of minutes to be timed is covered in red. As time elapses, the red area gets smaller. If that's not clear, here's a picture, taken from the Time Timer website: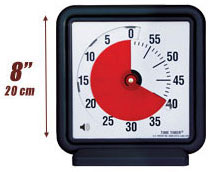 The 8" Time Timer. It also comes in 3" and 12".
Anyway, my friend Geralin Thomas, organizer extraordinaire, recommended I buy the Time Timer and take it with me on assessments, because mine tend to be quite long (4+ hours). This way I can keep track of time and since I'm holding the 3-inch timer in my hand, the client can see too. (I explain about the timer when I start.)
I've started doing this and I love it! I not only find it helpful on assessments and hands-on organizing appointments, I also use it in my home to keep me on task. I've long used the count-down timer on my digital watch when I'm trying to take care of tasks or projects. But being able to glance at the Time Timer and see how much time I have left is very helpful. It feels like (and I actually don't know anything about this) is uses a different part of the brain than looking at a digital countdown.
I love it so much that I've decided to spring for the wrist version, so I can keep it with me easily throughout the day. And I'm even looking into being a distributor.
One of my clients has purchased one and found it really helpful as well. She's easily distracted and this timer has done a great job of keeping her on task.
If you (or a client) have trouble with the concept of time and could use a little "tangible time management" check it out. And let me know what you think!
Tagged with: geralin thomas, productivity, time management, time timer, tools