The week of barely being home
I've devoted an extraordinary amount of time this week to my vision. I spent all day Monday looking for my old glasses before my eye appointment (and I never found them). Between Monday and today, I've been to the eyeglass place three times. I got new glasses (progressive trifocals…I'm officially middle aged), as well as new prescription sunglasses. I'm on my second pair of regular glasses. I love Lenscrafters 30-day satisfaction guarantee. I think these will actually work out well. I must say, it's nice to see well again!!
Anyway, I've barely been at home all week and tomorrow I'm making a quick trip to IKEA in the Chicago suburbs—4.5 hours from here—to buy some furnishings for my new second home office.
The main thing I'm after is two of these: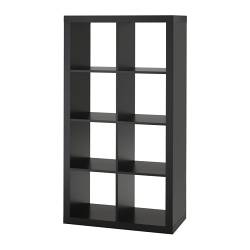 Expedit
Heaven knows I'll buy a few accessories while I'm there as well.
I'll blog with great enthusiasm about my office once it's furnished and organized. I can't imagine I won't come up with some insights to share while I'm at IKEA, or at least while I'm spending 9 hours in the car tomorrow.
Since I hope to leave at 7 am tomorrow, I don't expect I'll post to my blog. But perhaps I will over the weekend.
Tagged with: ikea, time management