Tiny Projects Challenge, take three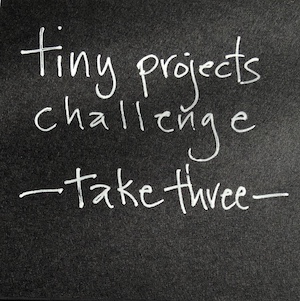 Back in May and then again in August, I took on a personal tiny projects challenge, in which I completed five small organizing projects around my house in a week. I did one a day and blogged about it the day I did it. I tried to pick challenges that would take 30 minutes or less and it was amazing what great quality-of-life improvements I was able to make in those small chunks of time.
With the surge in COVID-19 cases, I'm hunkering back in. I will be spending a whole lot of time at home, so I figure now is a good time to take on another challenge. Every other day for the next couple of weeks, my plan is to do a tiny project and blog about it that same day. Of course, I'll include before and after photos.
I have plenty of things I could work on. They include (but are not limited to):
My jewelry box
My file cart of business files
The medicine cabinet in our master bathroom
My organizing supplies
My lettering pens
My masks and

COVID

sanitation supplies
Creating a hospital go bag
My knitting tools
A frequently used but rarely organized office-supplies drawer in my laptop stand
My office-supply closet
Would you like to join me? Perhaps if you take a look around, some tiny projects will emerge. We can make a big difference in our homes by isolating just one little area and improving it in less an 30 minutes of effort. Watch out for my first tiny project tomorrow!
Tagged with: 15 minutes, organizing, tiny projects