Top 100 Organizing Blogs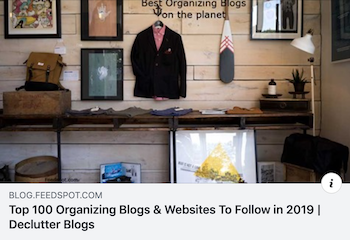 I'm so happy that my blog was included on this list of Top 100 Organizing Blogs and Websites to Follow in 2019, put out by Feedspot. (It clocks in at #46.) If you're reading this blog, you probably enjoy reading organizing blogs. So you're almost certain to enjoy perusing this list!
Such a list can be a rabbit hole, though. I encourage you to set a timer for the amount of time you can spare before clicking on the link. Use the timer to prevent you from losing all track of time as you explore the terrific blogs on the list.
I hope there will be some new-to-you blogs on the list that will prove life enhancing!
Many of my friends' and colleagues' blogs are included. I'm delighted to be in such good company.
Tagged with: blogs