Using Evernote to organize my Kindle library
As I posted back in 2013 in a post called there's no such thing as a free book, I have no shortage of books on my beloved Kindle Paperwhite. (I still love it and I'm still using the same device I bought in December 2012!)
Because it's so easy to download free Kindle books, thanks to Bookbub and my local public libraries, I have hundreds of books on my Kindle. Unfortunately, the user interface of on the Amazon website under "Your Content and Devices" offers only two ways to organize my vast library. One is to sort it by Title, Author, or Acquired Date. The other is to put books into collections. Neither is sufficient, in my opinion.
My problem would arise when I finished a book and wanted to figure out which one to start next. If I looked at the Amazon site, I would see one screen of books, usually the ones most recently acquired. I tried making collections, but that was cumbersome and less than helpful.
Then I thought about Evernote, which I already use to I organize virtually everything else in my life. Eureka!
I created a notebook called Kindle Library. In the notebook I entered about 30 books from my library that I was fairly sure that I wanted to read. Each book gets a note. The title of the note is the book's title. The body of the note contains the author and the date I acquired it.
Here's a screenshot of the most recent notes in my library: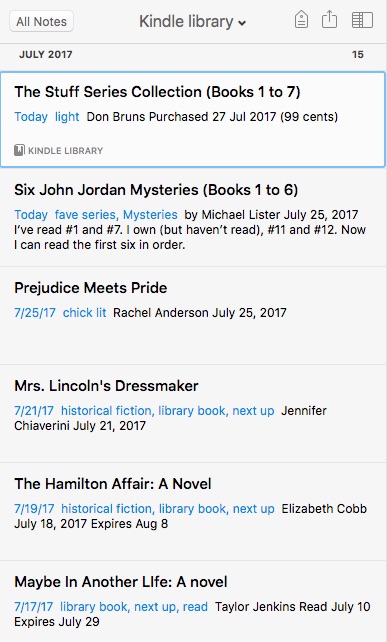 I use tags abundantly to make it easy for me to figure out which book to read next. I have tags for genre and for favorite authors. And I use a tag called Next Up for books I know I'll be anxious to read. I tag library books so I can try to read them before they expire. I also tag a book Read once I've read it.
I've created the habit of adding a book to the Kindle Library notebook as soon as I acquire it. That is the key to the success of this system.
I read a lot and I try not to spend a lot of money on books. (Apologies to the authors out there.) With my daily Bookbub email, I try to only consider downloading free books. And lately I've been resisting even those because I know they will just clutter up my Kindle library (and the device itself).
Using Evernote for my Kindle library has taken away the slight stress that my Kindle had introduced into my life. Now when I finish a book (I try to read a book a week), it's easy for me to pick the next one. The key, again, is creating a note for each book as soon as I download it.
Once again Evernote comes to my rescue!
Tagged with: bookbub, clutter, e-reader, evernote, kindle, technology