Watch me on the Hoardganize podcast!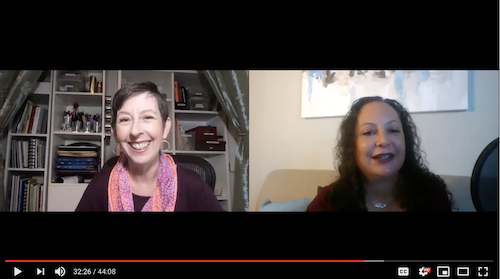 I enjoy being interviewed on other people's podcasts. Since I'm a podcaster myself, I'm accustomed to talking on the fly and it's fun to hear the kinds of questions that other podcasters have for me. Most of the interviews I do explore the confluence of two of my passions: organizing and genealogy. I feel like I can talk forever on that stuff. Most of the interviews I do are audio-only. That's my sweet spot because I'm not distracted by how I look.
In case you're interested, in 2019, I was a guest on these shows:
That last interview, which was published on December 29, was a lot of fun. The Hoardganize podcast is hosted by fellow professional organizer Rachel Seavey of Collector Care. Rachel's podcasts are video podcasts, a little outside of my comfort zone. (What do I wear? What kind of lighting do I need? Why do I make such funny faces when I'm trying to think of the answer to a question?)
Our discussion focused on genealogy, including getting started, getting organized, and some of my thoughts on best practices. Here are some highlights:
Where to start: start with yourself and work up your tree (1:30)
Gather the basic info: birth, marriage, death, censuses
Track info in an Ancestry.com tree or download info and build a family tree using separate software
Research direct lines (9:00)
Move to collateral lines
Using Family Search (10:25)
Using libraries (15:06)
U.S. research versus other countries (16:11)
Organizing your documents (17:54)
My file naming protocol
Keeping track of what you're doing now and what you want to research in the future
You can watch the video on YouTube or, if you prefer audio, listen to it on the Hoardganize website.
I had fun talking genealogy with Rachel. If you've been curious about exploring your roots, you might find it helpful! (And if you want to explore more, please check out my genealogy blog, Organize Your Family History.)
Tagged with: hoardganize, podcast, rachel seavey