Why hire a Certified Professional Organizer?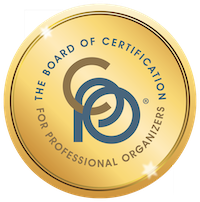 Back in 2008, three years after I started my business, I earned the credential Certified Professional Organizer® or CPO®. This credential is conferred by the Board of Certification for Professional Organizers as part of an accredited credentialing program. In order to become a CPO, I had to pass an exam that I studied hard for. In order to sit for the exam, I had to have 1500 paid client hours or 1250 paid client hours and 250 equivalent educational hours. (I had the latter.)
To maintain my certification, I must have 15 Continuing Education Units (i.e. hours of education) every year; I have recertified every three years, in 2011, 2014 and 2017. It's clear that there is some time and expense involved in being a CPO. So why do I do it? Many successful organizers aren't certified—in fact, I'm one of only three CPOs in the St. Louis area and only five statewide. (See the CPO Directory.)
I do it for two simple reasons: (1) I'm very proud of the credential and (2) I think it demonstrates to my clients and prospective clients that I hold myself to a very high standard. I am bound by an enforceable code of ethics and that I am committed to experience, education and ethics.
When you invite an organizer into your home, you expose your challenges to us and it can feel a bit vulnerable. Finding the right organizer for you can take a little research, but you can narrow down the field by looking for a CPO or for a member of the National Association of Productivity and Organizing Professionals (NAPO). (If you're in St. Louis, check out the website of NAPO's St. Louis chapter for a listing of all our great members.) Another great place to look for a trained organizer is the Institute for Challenging Disorganization (ICD). ICD subscribers are also consummate professionals, with a special interest in chronic disorganization.
There are a lot of choices out there. I hope this helps you narrow it down!
Tagged with: accomplishments, cpo, icd, napo, napo st. louis, professional organizer, professional organizer st. louis