Worth repeating: Holiday cards the easy way
I wrote this post two years ago. Today I will finish addressing my business's holiday cards and I used exactly the same method, though I shortened the window by writing in 20 cards per day, rather than 10. I have 70 personal cards to send out, but I have it in hand—there it is below. I'll get those done in the next week (or less). I love Minted and particularly appreciate their beautiful (and convenient) envelope addressing! It really helps make the process effortless!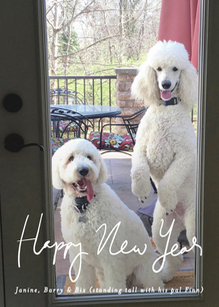 I finished doing my business's holiday cards this weekend. I send out about 125 cards to clients and colleagues and this year I managed to do it without stress.
In case it helps you make holiday cards easier, I'll share my process.
I selected a card flat non-photo New Year's card from Minted.com and customized it with my business's name. I put a printed backer on it, but no text. (I like New Year's cards because they're secular and they give me a little extra time, though I didn't need it this year.) I also included a complementary Skinnywrap return address label.
I uploaded a spreadsheet of the recipient's names and addresses to the Address Assistant in my account on Minted. (I did have to use an app called Export Address Book to export from the Contacts app on my Mac.) Minted will print the names and addresses on the envelopes free of charge this year.
When the cards arrived, I put the cards, envelopes, Skinnywrap labels, Sharpies and stamps in a container so everything would be together when I wanted to work on cards.
Every day, I wrote a message on the back of ten cards, sealed them, affixed stamps and affixed the return address labels.
It took me a couple of weeks, but they're all done and now all I have to do is put them in the mail!
Doing just ten at a time made this task so easy. And the fact that I didn't have to hand address or print and affix address labels made a big difference, too.
If you use a Mac and would like guidance on printing labels directly from your Mac's Contacts app (which is what I used to do before letting Minted do my addressing for me), this video from Ruth Davis of Mac2School shows you how.
The good news is that my professional cards are done. The bad news is that I still have about 75 personal cards to send out, but I have to wait until our puppy arrives on December 13 (squee!) so the card can sport a picture of him. But I've done what I can by uploading the addresses spreadsheet to Minted. Next steps will be get a great photo of the puppy, upload it to Minted and order my cards. Then I'll do 10 at a time again. I should have it all done before Christmas but, if not, before January 1. I love that it feels so easy.
Tagged with: cards, ease, holidays, worth repeating