Worth repeating: I heart West Elm's dip bowls
Four years ago, I wrote this post about how much I love the little dip bowls from West Elm. My love for them has not diminished over time. And, amazingly, West Elm is still selling these little beauties, so I thought I'd repeat this post. I now actually use them for dip on occasion! But I like them for all sorts of things, including looking pretty.
While on a trip, I wandered into a West Elm store and was immediately entranced by these beautiful little Textured Dip Bowls. I don't serve a lot of dip, but I immediately saw the potential for using them to store little stuff. (My friend Aby Garvey is rubbing off on me after all these years.)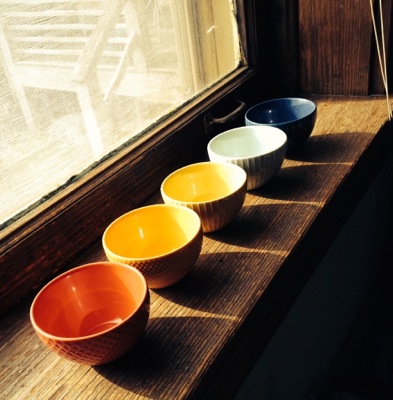 So I bought one. At first I thought I might use it for office supplies. Wouldn't it be nice on a desk holding paper clips?
But then I saw an immediate need in my medicine cabinet. I had several different sizes of fingernail and toenail clippers rattling around in there and now they're beautifully contained.
Soon, I bought two more for my other medicine cabinet (for clippers and our collection of dental floss).
Then I decided I needed some for use at clients' homes, so I went online and bought the rainbow of bowls pictured above.
The potential seems endless. Right now all five of my extra are sitting on my window sill, in the sun, making me happy every time I look at them.
Tagged with: aby garvey, organizing products, organizing solutions, repurposing, storage, style, west elm